Due to the competitive nature of Starcraft, most people only play KeSPA maps. There are hardly or no leagues out there that incorporate foreignerr maps into their map pool and so they are mostly left out and long forgotten.

But today, I want to showcase some of my favourite maps here from Broodwarmaps.net. There are many maps in here that I feel are really nice and IMO, I think the deco on foreigner maps is much nicer and more appealing that KeSPA maps. Just take note that these are just my own opinions and I can noob up sometimes so just take it easy.

First we have:

(2) Anything But This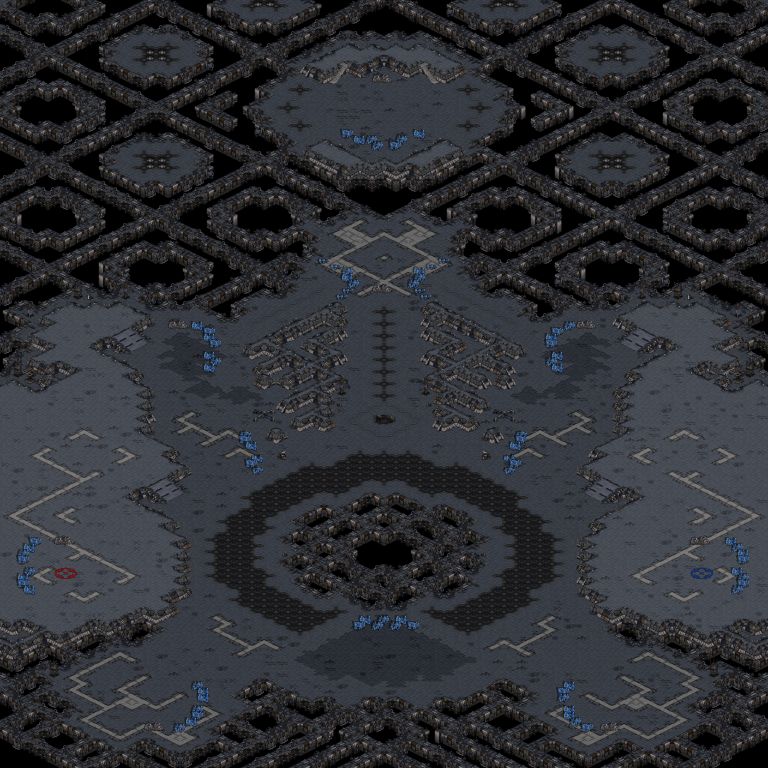 + Show Spoiler +
This map is really interesting. It has 2 entrances to your main base, one nearer to your main cc and another that is much further away. I can't really tell which is the natural of your base but I am going to assume its the one at the ramp furthest away from your main.

The potential issue I see with this is how extremely difficult FE would be on this map and how 3 hatch speedlings would be really good too.

But apart from that, i like the spacing, I like the deco and overall, I would rate this a 6/10 for its creative concept.
(2) Venom
+ Show Spoiler +
On a first glance, this map would bring resemblence Destination but howeever, it is almost nothing like it.

The bridges are much wider in this map and the east and west bases are now much more easily accessible from both sides, making it harder to take. Hence, these bases do not bear as much significance as Destination's did.

The bases and terrain that are beside the main were done extremely well. I really like the concept here where the base with the gas is quite vulnerable due to the wide main entrance and a little back door to that base. Excellent. I rate this one an 8/10
(3) Hamlet
+ Show Spoiler +
This map has really nice appeal to me. The deco done here is absolutely amazing. If you had taken a hand into map making, you'd understand how tough is it to make deco like that. The jungle terrain that's edited in the ruins terrain to look much smaller requires manual work to fit in the right pieces so that your terrain will look natural. This is really time consuming!

Apart from looks, the concept is nice. I like how this is almost like God's Garden with the exception that your third base, though easily accessible, has its mineral line really vulnerable to attack from the otuside and your forces can't really get there to deal with the harass.

Another thing that I feel a little odd is the symmetry and how tight the bases are. If say you spawn on the 4 o'clock and your opponent spawns on the 11 o'clock you will have a much easier time getting to your opponent's base rather than say if he had spawned in the 7 o'clock because you don't have to cross any bridge to get to his base.

The bridges also make this map really tight, meaning that terrans will have such a good time here because flanks are really hard to do here. But inaccessible also means a good play for carriers and arbiter so maybe that balances things out. 7/10 to me.
(2) Oro Lala 1.2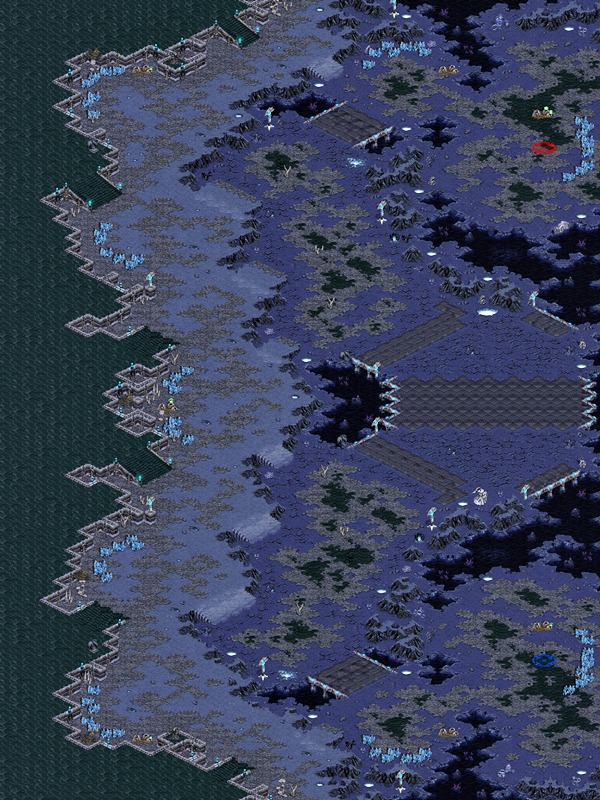 + Show Spoiler +

This map is like a vertical Ride of the Valkyries with that high temple terrain extended all the way across the map. The exception is the nearby bases in that area and leave for quite good games to watch as the bases are easily taken and destroyed. However, defending the area from the widest ramp to the area outside of your natural can yield you an easy 2 bases.

The deco is decent but I feel that it is a little lackluster. 6/10



Well, hope you enjoyed some of these maps and definately give that mapping site a visit every now and then to appreciate the many great and unknown maps that others have made. Good day.