So it was yesterday afternoon I was sitting here in lab tapping my foot away waiting and in anticipation of SC2 launch. I knew I was getting my CE by mail on launch day so I didn't have any plans to go to a midnight launch. I realized that I can get off work early and I remembered that Day[9] is having a Launch Party so I said F*** it! I'm going to drive down to Harvey Mudd College and partake in Day[9]'s Launch Party.

I didn't know what to expect.. there could have been anything. I hadn't really been keeping up with the events he had planned. For all I knew he could have had a get together in a small conference room. I just didn't know what to expect. So I got in my car and made the trek from Westwood to Clairemont in heavy traffic. 2 hours later (at 8 PM) I got to Galileo Hall and it was packed! So many fellow SC'ers all out in the fresh air!

There were three people manning the ticket table. I paid my $25 and was given admission (to 12 hours of content) and tickets to six slices of pizza and two sodas worth of tokens! Now that is generous! I walked into the Hall and there were some plasma TVs with Street Fighter IV, Mario Party, Halo 3. There were board games and card games going on at some tables. Everyone was having a good time then I saw him, it was Day[9].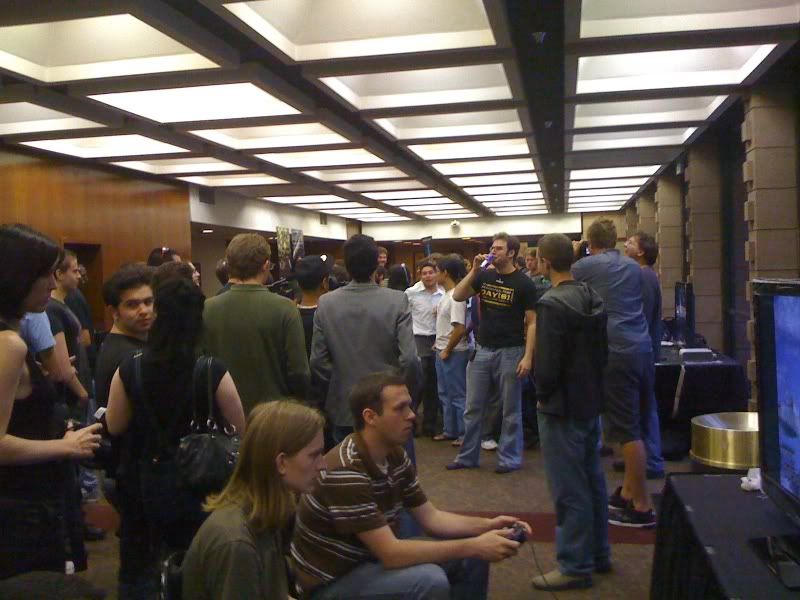 Day[9] drinking!

He was taking a much deserved break from announcing and I used that as my opportunity. I walked up to him and told him the night wouldn't be set unless he autographed my original SC1 Hydralisk figurine. He gladly accepted. Such a swell manner guy.



Sean Day[9] Plotts autograph on a Hydra!

After a bunch of great content and commentating, when I can't imagine things can get much better who shows up to be interviewed by Sean but the voice actors of Raynor and Tychus: James Phinney and Neil Kaplan!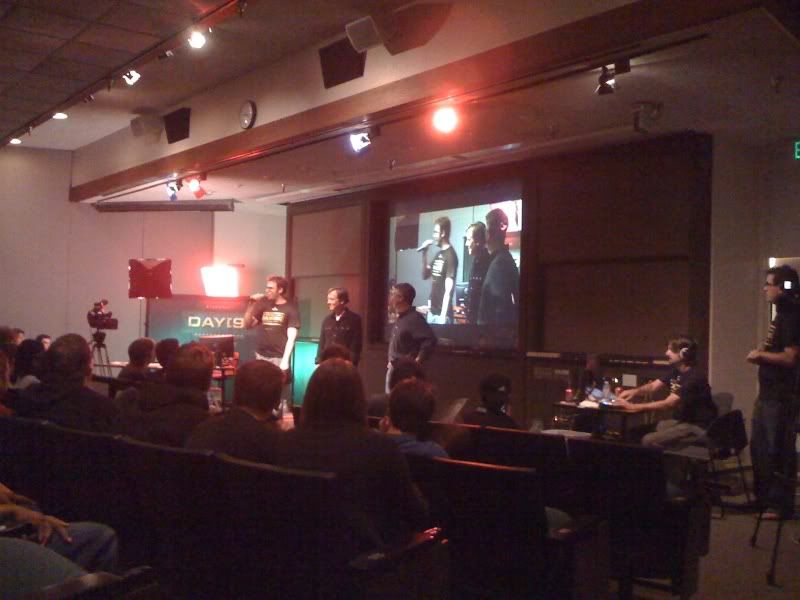 Hell it's about time!

And the best part? On their way out, they were nice enough to autograph my Blizzard mag.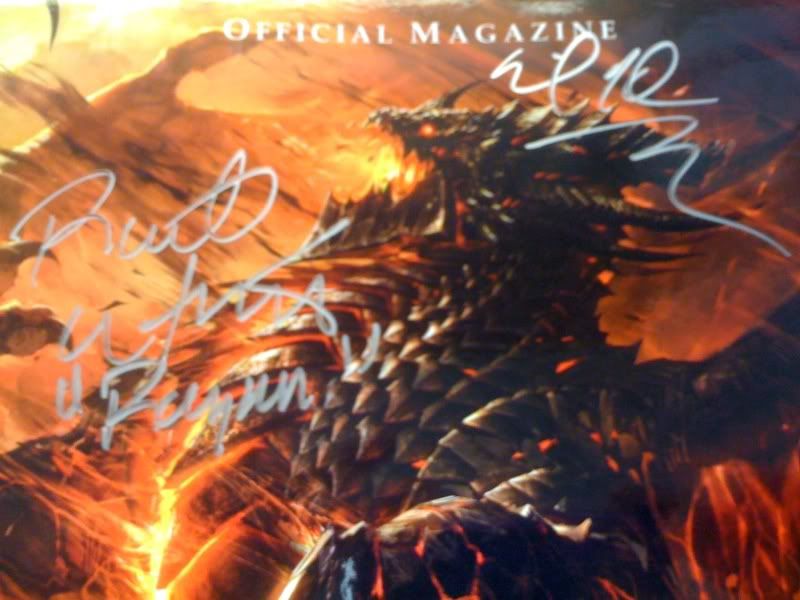 And the commentating continued well into the night!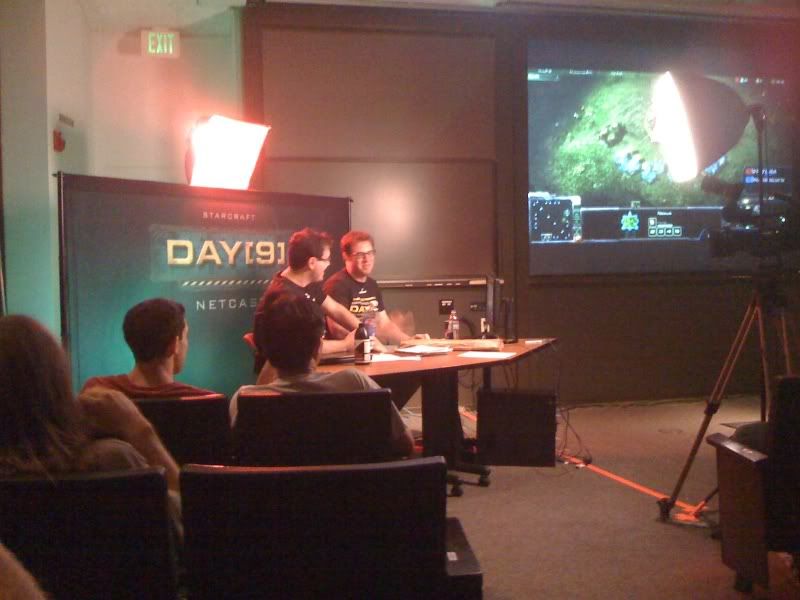 At around 2:50 AM I was so tired I shook Sean's hand and told him I was about to 'gg' for the night due to serious fatigue... I had to be at work in the morning! Like a trooper he was great mannered as always even though his voice was starting to give out and his face was starting to show the exhaustion.. he was working hard and was going to head back in for some more commentating.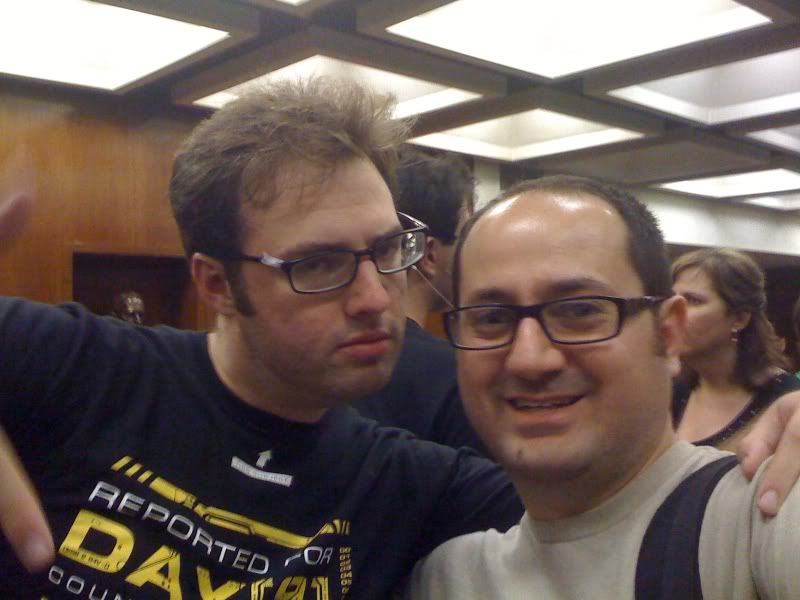 Me and Sean at about 3 AM... Hey we have the same glasses!

At about this point I respected this man more than anything. He's a grad student in his 20's and putting on a better show and event than any I've been to in a long time. With dedicated volunteers, video operators, technical guys, photographers, press, people manning food and ticket boothes. The amazing auditorium with giant monitors. I mean this was a serious production and this guy was pouring his heart and soul into it. Even his Mom was in awe, she would ask people 'how much left to go? and I can't believe how big a production this is with the press and etc'. You could tell she was in awe and proud. And so should all of us really. Here is a guy in the community doing something nice for us that takes a lot of time, talent, connections, and contributions from the community. Only Sean could have pulled this off. This was in a word: EPIC.

At that point I once again found myself saying F*** it. I sat my butt down in a chair and cheered my butt off for the tournament finalists until the very end. Sure I was exhausted, but watching Day[9] pour his heart and soul into 12 hours of casting inspired me. This wasn't a time to get tired, this was a time to party! This experience was one that I will never forget. Where a bunch of fans of a game that we love got together and showed just how much we care. Led by a charismatic miracle maker Sean Plott, we cheered the night away. His color commentary was hilarious and fun as always and he did manage to keep the word indubitable to only six occurrences at last count.


Finally, with his voice giving out and his co-host J.P. the same, we gave him a much deserved standing ovation and called it a night.



Attendee's signatures.

I'd just like to thank Sean for putting this event on. It was so amazing, a night I will never forget. I am still in awe that he was able to put together such a well orchestrated huge event. I also think it is so awesome that people like J.P, DJ Wheet, and the TL community and SC Legacy guys all contributed so much content for the night. This is such an amazing community with such gifted and amazing people. I can't wait to share more great times with you all.

P.S. By the way, I did make it into lab today after all even after only 3 hours sleep! I got to lab in the morning and my CE was waiting for me. I guess I will see you all on the battlefield.