It's in my nature to design my own T-shirts to such events as Blizzcon. I thought it would be hilarious to poke fun at APM spamming since it's such a hot-topic issue sometimes. I'm not trying to get on a soap box and say APM spamming is good or bad, I just think this idea will get some laughs.

The best part is that because the letters 'A', 'P', and 'M' are already in the word 'SPAM', all I had to do was rearrange the letters. This made it extremely easy for me to do with photoshop even with my limited skills.



MMMM APM Sammiches...


Next, I tried to think of a cleaver saying. I thought 'Open up a can of skill' was a good one.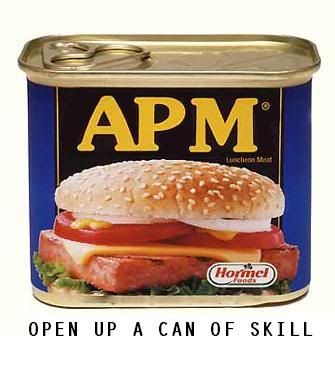 Don't make me pull a Popeye and open this bad boy up like a can of spinach!

So what do you guys think? Would this get a chuckle out of you at Blizzcon? Could you suggest a better caption under the can? If I use your caption, I will give you credit on the shirt! If you see me at the Con come over and say 'hi'!

Also, are any of you going to design your on shirts? If so what?