Just wanted to share this with you!

It was my Birthday a few days ago so my wife and I threw a BBQ and invited friends. I had a lot of fun and when the night was winding down it was cake time!

Now, I was not expecting this, it was a cake with Starcraft 2 units spelling out 'HAPPY B-DAY NOOB'! I was smiling ear to ear as I stared closely at the details. Banelings were used to spell out the letters 'HA', burrowed Roaches for 'PP', Drones for the Y. and so on.



'HAPPY B-DAY NOOB'

I absolutely loved the cake and it was getting quite the reception from my guests as well. I asked my wife how in the world she got this cake for me because she doesn't even play SC. Hell I even got her a beta key back in Feb and she played only 1 time! Anyway she told me that she knew how much I loved the game and that my buddy Max (Marcusq) plays it, so she got in touch with him and they brainstormed what they could do. They decided that Max would use the campaign editor to spell out 'HAPPY B-DAY NOOB' using units as the letters. I thought that was so clever!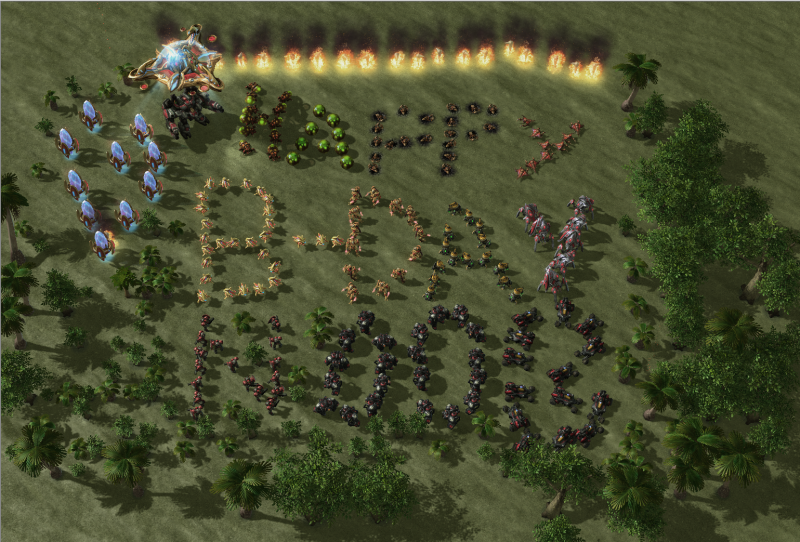 Here is the original screen shot Max sent my wife. I especially love the random Mothership, Thor and Pylons shaped like a heart lol


Needless to say I was slack-jawed. I gave my wife a huge hug and needless to say I felt so lucky to have such an awesome wife and good buddy Max. Thanks for reading!

P.S. oh and in case you are wondering (as I was) what the heck unit is making up the 'A' in 'DAY', it's a critter!