Part V - I swear I'll finish it this week..

Hey guys, I knew this would be the most frustrating and hardest part of my quest. As many of you informed me it would be. I am at the point where I just want to beat this game. Yes there have been times where Im like this gameisafuckinggemomfg and other times where im like do do do dodododo doooo doo doo doo dododo DANANANA DANANANA DANANA walking with no idea what im doing. Also I realize its Valentines and this may be overshadowed by valentines blogs. Makes me sad
.

Here is part IV if ya missed it http://www.teamliquid.net/blogs/viewblog.php?id=309779

So this week was actually decent in what I accomplished. So in the last edition I was jut finishing palace 3. So I start by doing the most obvious thing to do. I cross the ocean on my raft and explore. I get there and search the town. I kinda got the drill now, find old lady, do side quest get spell. Well while others were retarded and difficult, this one, was super easy. EZPZ. I see the lady shes like get me water and im like alright ill go look and not 1 second later I see a fountain. Im like no way this could be that easy but FUCK YEAH it was. Now I get probably the coolest spell yet, motherfucking flower power in my sword. Shoot flames and shit. (not literally shoot shit, just literally shoot flames.)



Some "artists" interpretation of the fire spell... Im sure as hell glad I didn't draw this...

So after that Im like cool more exploring lets do this. Go through the cave start killing spiders with my flames. Go up to another town. Im like wow 2 spells so quick? But I get there cant figure anything out. Some assholes locking me out and some bitch wants me to find her kid. So I skip this part and go straight to the palace. Palace 4!

So I get there after going through some maze. And I run through it. Noticing shit, there is some KKK in here how can I kill them? No clue. So I shoot fire, doesn't work. I give up and just jump over them the whole palace. Fuck keys I say. So I just fairy as much as I can. Get the hover boots. Get to the boss. Shit its a giant spell caster red KKK guy. So I just kill myself cause I cant hurt it.



Lol, not getting this key

So I decide I gotta look for this kid cause I fucked up somehow, I need this reflect spell. (found what spell I needed by reading it in manual) So I go back to the maze and since im always being put into these worlds, maybe I'll find something useful. First of all I fall into a pit find some magic. Fuck yeah. Then after searching some more I find the kid, who looks like a creepy Eskimo and just pick him up over my head and he dissapears. Where did he go? Did I shove this kid up my ass long enough for me to take a shit on an old ladies front porch so she would give me this spell?
Get back to boss, duck press left and right with reflect spell on. Easiest boss since Sarah Jessica Parker in palace 1... er, horse head.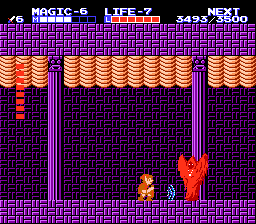 EZ PZ. Vanilla squeezy

But wait, what about that locked door in town, and that key I couldn't get. Well it looks like theres a chimney. Time to santa clause up this bitch. Can't quite reach the jump, fairy doesnt work either. Then I see a progression of building buildings and figure it out. Now I realize that this up sword move was just what I needed earlier.

So I go back to my memory and remember 3 important things the town folk told me.
1) Health potion on water
2) False wall in palace
3) River Devil doesnt like noises (really? River DEVIL, not river monster, or river black guy. BTW, pokemon totally took this idea through the snorlax whistle park)

So at this point im like fuck yes, I want this health potion stat. So I walk on water, all jesusy and shit and go up and down up and down everywheres till I finally come across the secret area where the health is. Fuck yeah, 7 blocks of magic 7 blocks of health. And since my levels are already high from being bad, 7 attack, 7 magic, 8 life. I don't ever have to fight again because bosses will level me up to max. So now im concentrated on finding this false wall. Breeze through this palace quickly ignoring most enemies and keys. Find the whistle expected from 3 above. Get to the boss, put on shield, learn the pattern use my life spell and beat him decently easy after 2 lives.



Turns out Jesus could only walk on water cause of magic shoes, which he then hid in a video game for an elf trying to save the world to find. Ah the classic prophecy, funny I don't remember seeing it in the bible anywhere. But then again I never read the bible

So I get my whistle. To scare away this black devil. Was this whistle necessary? Can link not whistle using his mouth, or better yet just yell and make the monster magically dissapear? Anyways. I go down and through the walls of Ganon with assholes throwing fire at me. Reach a graveyard get hit by a bunch of invisible sons of bitches. Ouch.

See a town in walking distance just need to get there to heal. Get there get hit by an invisible guy and die. Go back there to realize no ones around except an old man telling me to check the woods in the east. I go through a cave and get to the woods. Walk everywhere blow my whistle everywhere nothing happens. Fucking troll town. At least the next palace "hidden palace" is pretty obvious where it is.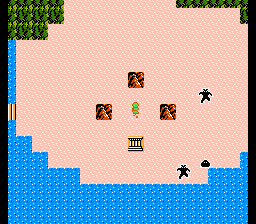 Derp herp

So I go in the palace, cant find any keys quickly run out of fairy magic. Check the manual and realize shit im gunna need to find this magic key. So maybe I read that old mans instructions wrong or I gotta recheck them damn woods. Im now level 8-8-8 so fuck yeahhh!

PS: Happy Valentines Day



I <3 all readers

Overall Progress:
Legend of Zelda - 10 Hours (Completed)
Legend of Zelda 2: Adventure of Link - 12.5 Hours (5 Palaces)

Coming up next:
Im gunna beat this game, then hopefully beat Link to the past really quick to get back on track for my yearly goal. Excited to play Links Awakening.