My Top 5 Games for 2018



I'm a huge fan of indie games and really unique games in general. When I'm not playing StarCraft, I'm balls deep in whatever I can find from my twitter feed or itch.io. There are so many amazing games that people never discover or play that are just waiting for them - but since they are not from a large game publisher and get zero advertising, many people will never find them. I've played probably upwards of over 200-300 indie games in 2017, and I'm going to list my top 5 most anticipated games in beta that will be released in 2018. All of these have a demo that is playable, so if any of these look interesting to you, you can try it out right this second.

5. Adam and Ricky


Website: https://twitter.com/morefoes
Download Demo: https://morefoes.itch.io/adam-and-ricky

Yeah, how do I even start with Adam and Ricky? It is a pixel art game with two characters: a naked guy with a fig leaf over his crotch, and a pig. You travel the landscape bringing ultimate pain to everything around you with an intuitive and fun combat style. You may also switch between your characters at any time when needed for maximum style points.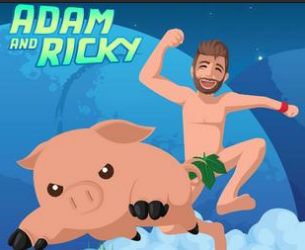 Although it is in early alpha, the game is difficult enough to make the demo a long and arduous playthrough. You will die, and you will die a lot in this game. The first boss alone is one of the most difficult bosses I've ever fought. To give you an idea of what your experience might be like, the first time I picked up this game I slew a camp of Nazis, got a face full of ogre dong, and then went into a cavern and got stomped instantly. Then I proceeded to fight the first boss five times and never getting him under 50%. If you're a fan of fast action paced combat with lots of movement and attention to detail (and dying a lot), you will love this game.

4. GLITCHED


Website: https://www.kickstarter.com/projects/enhousestudios/glitched/
Download Demo: https://enhousestudios.itch.io/glitched

An earthbound-like game, GLITCHED comes in at #4 with some really innovative concepts. The game is about how the main character is aware of you (the player). Seemingly, this interaction causes the world to experience turmoil and, well, glitches. As you go through the world of Soren trying to get to the bottom of these strange occurrences, you'll be forced to make a lot of decisions. The game has a 6 part essence system that directly effects your experiences and outcomes depending on the choices you make.




"These alignments serve as personality types which will impact characters, story and the world around you. Your interaction with NPCs, how you explore the environment, combat, and even your conversations with [the main character] will determine your ESSENCE." The essence system is the core of the game, and will give each path a different and unique experience.

Another strong point of this game is the cast of characters. You'll meet a wide array of interesting folks that are pretty much woven into the essence system. You will also encounter some wacky allies who will help you on your quest to figure out why the world is so glitched out. This game has a lot of promise, but a lot of it has yet to be seen. The game was overfunded on kickstarter by a massive amount, so hopefully good things are to come from it.

3. Jimmy and the Pulsating Mass


Website: https://rpgmaker.net/g/jimmy/
Download Demo: https://rpgmaker.net/games/7503/downloads/
Dev twitter: https://twitter.com/KaseyOzymy
Dev tumblr: http://jimmyandthepulsatingmass.tumblr.com/

"Jimmy dreams of the most fantastic things. He dreams of big yellow fields of sunflowers. He dreams of living woodwinds and talking mice. He dreams of his mom. He dreams of his dad. He dreams of all the video games he's played with his uncle. He dreams of his brother standing beside him like a ten-foot giant."

Third up on the list is an earthbound-esque RPG called Jimmy and the Pulsating Mass. You're a boy who has discovered a unique shapeshifting power that allows you to take form of certain enemies that you defeat. These forms give you brand new abilities and allow you to interact with the world differently. The cast of characters and the world in this game are unlike anything you'll ever play, as when you start this game you'll be plunged a thousand feet deep into the Weird as Fuck ocean.




The humor in Jimmy and the Pulsating Mass is fantastic, and it remains to be one of the funniest games I have ever played. If the combat or world doesn't envelop you to keep playing, the hilarious jokes or character interactions will hook you. Oh and about the pulsating mass? It isn't even clear what it is... other than there is a locked door in your room that pulsates with police tape over it. You will walk on clouds, get in a ruffle with a biker gang, meet a town of mice, and be on the search for honey... all in the first 30 minutes. If you're looking for a wacky adventure that will make you laugh, complete puzzles, and throw you into a seemingly new world every half hour, this game is for you.

2. Heartbound


Website: http://gopiratesoftware.com/games/Heartbound/
Download Demo: http://gopiratesoftware.com/games/Heartbound/Download/

The most promising game of the top 5, in my opinion, is none other than Heartbound. It is an adventure game about a boy and his dog set in a dark world with many mysteries looming over them. It features warioware-like combat with interactive dodging/clicking as well as many puzzles laced into the world. Unlike all the other previous entries, this game doesn't have a light-hearted atmosphere and takes itself a bit more seriously and touches on some sensitive topics.




You are a young boy named Lore living with his trusty companion and best friend, Banon the dog. The game starts out with Lore finding out that Banon has been kidnapped and his house completely ransacked. Upon leaving your house to find your dog, the world becomes darker and more confusing with each step as you find yourself getting involved with forces well beyond your power. Without spoiling too much, I recommend this game to everyone.

1. Hazenut Bastille


Website: https://www.aloftstudio.com/hazelnutbastille
Download Demo: https://www.aloftstudio.com/hazelnutbastille

Although this is #1 on my list, I have the least to say about it. Do you like Zelda and do you like really fucking hard games? Bam, you just found your dream match. This game has everything going for it, from beautiful pixel art to crafty and genius dungeon design. If you pick up this game, you're going to get fucked, and you're going to get fucked hard.




"Hazelnut Bastille tells the story of a young woman who travels to a foreign shore on the outskirts of her world, in order to seek out the promised gifts of mythological ancients, in hopes of retrieving something which was lost to her. On the way, her story becomes irrevocably intertwined with the lives of those living in this far off land."

The game is not large in scope, but what it does, it does exceedingly well. And that is my list. Thanks for reading but I'm tired now and gonna put some pizza in the oven.