NEW YORK CITY STARLEAGUE
Season 2: Battle of K-Town



THE GOAL
It is my hope that this will be the best BW LAN tournament in the US since SC2's release, with the biggest prize pool, largest turn-out, and greatest after-LAN party. I want this to be a featured event on TL with a live stream and casters. Come join us as we have a ton of fun playing/watching some great games while at the same time showing the TL community THE WORLD that BW still lives on and refuses to die.


THE BATTLEFIELD
"NetZone" LAN Center in Korea-Town
28 West 32nd Street, 5th Floor
New York, NY 10001


COMMENCEMENT
January 5th, 2013
1:00 PM / 13:00 EST


THE WARRIORS
All skill levels and all ages are welcome. Seriously anyone at all who respects BW enough and has the willingness to participate is fit to be called a warrior. You are not required to participate in the tournament, but are strongly encouraged to do so. I also plan to post something on the walls of the LAN center so that some random Koreans might also join us (talked to the owner about this already).


MAP POOL
Maps will be played in this order of priority:

1. Circuit Breaker
2. Destination
3. New Sniper Ridge
4. New Heartbreak Ridge
5. Fighting Spirit


TOURNAMENT FORMAT

$5 entry fee

Double Elimination

Prize Pool = sponsorship money + entry fees
~Split 60%/30%/10% between 1st/2nd/3rd place winners

Every match will be Bo3 except for the finals which will be Bo5

For each match (excluding the finals), every player will veto one map from the map pool (player who will veto first is determined by coin toss)

Everyone is welcome to bring their own equipment (mouse, keyboard, headset, whatever).

Due to time restraints and a possible lack of computers, participants are strongly discouraged from playing non-tournament games while they are still involved in the tournament.


SPONSORSHIP
Please! Help us make this LAN tournament amazing by donating money to the prize pool. A bigger prize pool will attract more players and greater talent, and will therefore mean a greater variety of high-quality games and casts. A donation of even $1 will be greatly appreciated, and will enter you into a lottery for the chance to win this:
+ Show Spoiler +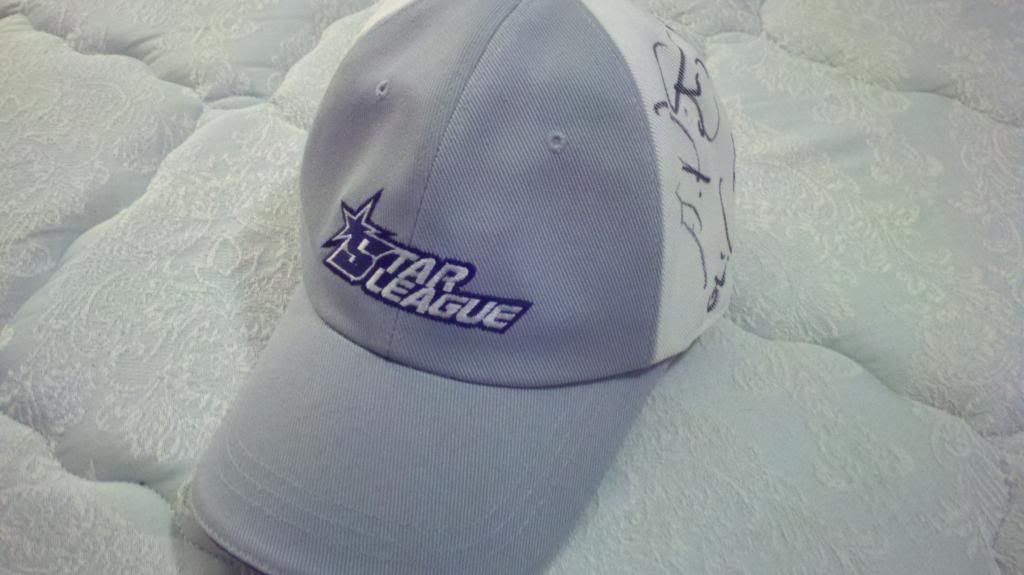 A StarLeague hat signed by StarCraft and poker legends Guillaume "Grrr" Patry and Bertrand "Elky" Grospellier.

Winner selection process:
+ Show Spoiler +

To select the winning sponsor, I will write a program to generate a random number from 1 to the total number of sponsors for each sponsor such that no two sponsors have the same number. It will then select a winning sponsor by a randomly generated number from 1 to the total number of sponsors that matches a particular sponsor. It will therefore be a completely random method of selection.





"Hey guys, we're living in a simple world. If you want BW to be alive, to be young and hot, you should do something. Not just drink the beer while watching Sayle's stream. The time showed we got a great community. We can do everything we need and we want. What BW needs now? What YOU can do? BW needs a good server. iCCup looking for the admins — you can become one of them. Host news. Post the news to your favourite bw-sites. People who can make interesting news are always wanted. Do not want to post the news? Make the news! Got any ideas of great tourneys — share it, realize it. BW needs money. Just for events, you can do nothing but pay to the organizer — he will do everything needed. Just to say: HEY BITCHES WE LIVE AGAIN and to post our news to the biggest cybersport sites. May be it all sounds silly or shitlike, but… just dont complaint, guys, please. If you want something to be done, just do it. Or pay to someone who can do it." -reps)Largo from iCCup's Who is Who article



If you would like to become a sponsor:
+ Show Spoiler +

Please send donations via PayPal to spencereick@gmail.com
PLEASE MAKE SURE TO SEND IT AS A "GIFT" SO THAT NO FEES ARE IMPOSED
PM me your PayPal e-mail and the amount you sent and I will post it below



CURRENT SPONSORS ($115 total so far):
+ Show Spoiler +

NeVeR - $50
ArvickHero - $25
jpak - $10
[anonymous] - $15
TehRei - $15



Even though I am a sponsor for this event, I will of course not be included in the winning sponsor selection process. Additionally, even if I so happen to finish 3rd or better in the tournament (unlikely to happen this time if we get just a couple more top-tier players to come), I pledge now to donate all of my winnings to the happiness of all after the LAN via soju and beer. So you can rest assured that I am not trying to swindle anyone; I'm doing this simply for the love of the game (and arguably alcohol).


REQUESTS

People interested in casting who think they can do a good job.

Someone willing to get there early with me to ensure that all of the maps are downloaded on each comp, casting software is installed on select computer(s), etc.

Anyone willing to help with the organization of the bracket on the day of the tournament, telling people who they have to play, answering questions, etc.

Someone interested in taking photos and posting them on TL after the event.

Please PM me if interested.
Also, please post here if you are sure that you can go.