Wiki page: HERE
Previous Casts: HERE
WEEK 5 INFORMATION HERE

Week 5:
Where: Channel "ROOKIE" on ICCup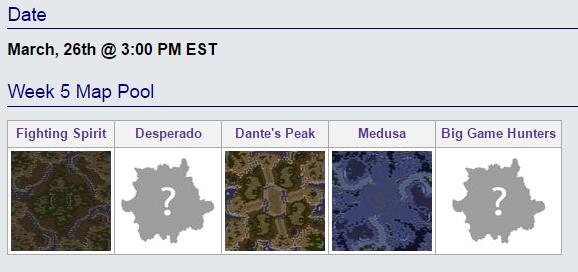 Team Melee Fighting Spirit
1v1 A Desperado DOWNLOAD
1v1 B Dante's Peak
1v1 C Medusa
3v3 Big Game Hunters

Rules:

Use of Players & Subs: Subs may play at ANY time. You can use all 5 players on your roster during a match (ie. the sub can play in the BGH / Team Melee game even if he did not play in a 1v1 match) with the exception of players may only play ONE 1v1 match per week.


Teams will have to use their subs in instances where unplayable lag persists in Team Melee / BGH games. If a team has a player with a latency conflict and no subs are available, the other team may accept a 2v2 instead.



Scheduling: Teams who do not show up 30 minutes after the expected arrival time (3pm EST on Sundays) in channel ROOKIE on ICCup automatically lose all their matches for that week.


Games may be postponed or rescheduled at the opposing team's discretion as long as they don't interfere with another week's games.



Team Melee: All players must pick the same race on each team.


Teams have to use at least two players for their team melee match.



Banned Glitches & Bugs: Allied mines, stacked units, gas walk, shift-queue walking, and cargo glitch. These are the same as ICCup.



Winning team needs to send me all replays of their matches (even the team melee).

Prize Info:

Match ups: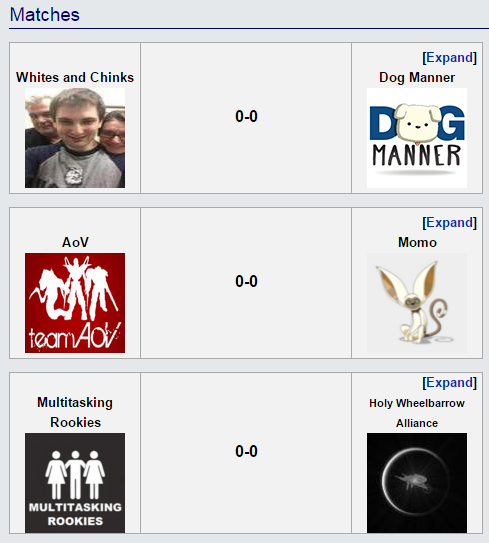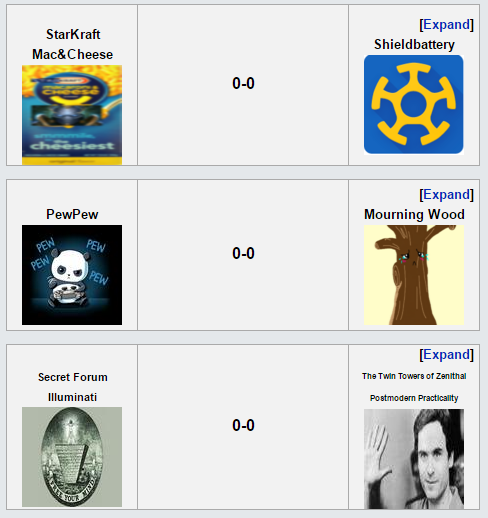 Players who need teams:
Current Teams: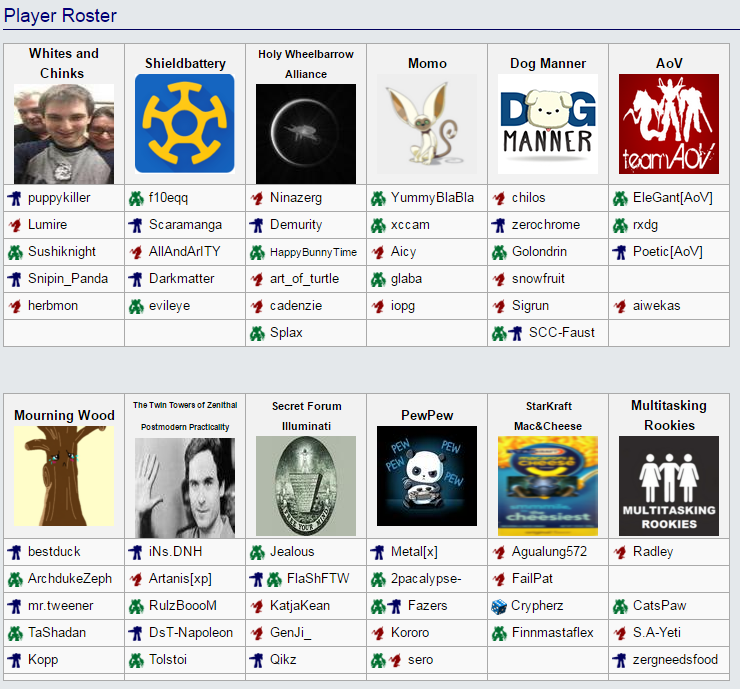 ---