Where: Channel "RTL" on USWest
Time: December, Sunday 17th (3pm EDT)
Season 1 Champions
+ Show Spoiler +
Holy Wheelbarrow Alliance
ninazerg

Demurity

Ty2

idegelchik

Cadenzie

Splax



Previous league thread: here

---

+ Show Spoiler +
Rookie Teamleague 2 will be a Swiss-system tournament over an 8 week period.

There will be 5 sets in a match with no ace. Each set is BO1 and worth 1 point.
The 1v1 and 2v2 maps will be rotated each week and revealed 7 days before the play date.
A player may play in the 1v1, 2v2, & 3v3 but not in more than one 1v1 set per week.
Random and racepicking is allowed for all sets, but double Zerg teams are not allowed for 2v2.
There will be no predetermined line-ups and teams may prepare them at the time of the matches.

Set 1: 1v1
Set 2: 1v1
Set 3: 1v1
Set 4: 2v2
Set 5: 3v3


+ Show Spoiler +
Rookie Teamleague is aimed towards lower to mid-tier players. The scope of the league is to fill in the gap between the high skill ceiling events such as PATL, SKTL, Gambit Cup, BWCL, and the low skill ceiling events that have historically ran such as DRIT/CPL and Valar/Airking tournaments. In hopes to fulfill this goal, there will be a soft skill ceiling set in place at my discretion to achieve a range of players who sit in this medium to give a fair and enjoyable league to play in that is more aligned with their abilities. Players who enter are strongly encouraged to link their
starlog
profile so I may gauge skill levels on entrants who I am unfamiliar with. As an extremely loose general rule of thumb, *current* MMR at roughly a 50% win-ratio is near the cut-off. However, MMR is not the only metric taken into consideration, and ultimately, entrance will be decided on a case to case basis.
Teams:
Players are encouraged to form their own teams. Each team is required to have
at least 3 players
, and has no cap.
There is no skill cap on teams themselves and players may add others already accepted into the league on their own team at their discretion.
Players may be added mid-season but must be added the day prior to matches to play in those matches for the week.
Teams who become inactive or receive a walkover in week 1 or 2 of the league will be completely replaced by another team.

+ Show Spoiler +
Matches are to be played at the specified date and location in #weekly-matchups with the walkover time being 30 minutes past. (Players who are partaking in a 1v1 who plan on playing in the 2v2 and 3v3 are exempt from this walkover time as long as the other team is given notice.)

Teams may schedule and play matches earlier at their own discretion. Since no line-ups are required, each match is binding. Every team is responsible for their players and their decision to play these games. Admins will be the judge of any disagreements, but if there is an agreed upon match for a set and it is played before the set time, it counts.

Teams who are on the left side of #weekly-matchups are responsible for saving ALL replays (win or lose) and to send them to me to be casted and entered into the wiki.


+ Show Spoiler +

The allowed and disallowed bugs are the same as ICCup's:

Allowed: Drops to defuse mines, pressing through of units, mineral walk, manner pylon, lurker hold position, observer-over turret, stacking air units.
Disallowed: Any bug which allows ground units to remain stacked while moving or attacking, allied mines, gas walk to get through blocked entrances, shift-queue sliding, cargo glitch.

1v1: Disconnects will be replayed unless a player feels they had a large advantage.
2v2: Disconnects in the first 2 minutes will be replayed unless a team feels they had a large advantage.
3v3: Disconnects in the first 2 minutes will be replayed unless a team feels they had a large advantage.

Disconnects after 2 minutes in team games will not be replayed. If there is conflicts involving lag, games **have** to be remade before the 2 minute mark. Teams may choose different players if lag persists. Any match exceeding the 2 minute mark for any reason will not be replayed and the set win will be awarded the team with the last player in the game.



How do I enter? You may enter with or without a team. As is tradition with the original Rookie Teamleague, you may pick a team name and image to represent your team. This will be used on the wiki when displaying your results, as well as during the weekly cast. If you do not have a team, you may still enter and I will add you to a list in the case that a team wants to pick you up. Before the league starts, all the extra players without teams will be compiled into teams by me and tagged with names/images of my choosing. They will most likely be grotesque and of poor taste so I advise you find a team.



Cut-off to enter as a player or team is December 15th



---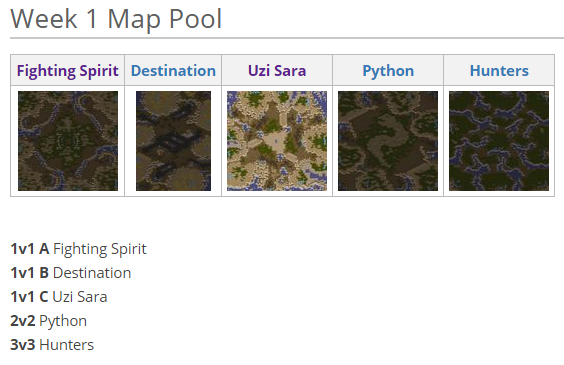 PM me if you're interested in becoming an admin/caster/liquipedia slave