Sexual crimes including rape has been on a sharp rise in korea in recent years. Perhaps the most shocking of them all surfaced today, where it was discovered that elementary school boys in the Southeastern city of Daegu had been group raping underclassmen girls on a daily basis.

It was reported that the boys copied lewd scenes from cable TV and the internet. The total number of criminals and victims combined is estimated to be between 50 and 100 kids!

Source
http://dailynews.yahoo.co.jp/fc/world/korea_south/?1209555492
(sry I can't find an english source)


Additional Data

A study reports that the rate of rape incidents in Korea among those aged between 10-19 is 2x that of USA and 10x that of Japan. For every 100,000 people, a teenage rape incident occurred 11.5 times in Korea, 6.0 times in USA, 1.1 times in Japan (2005'ish data).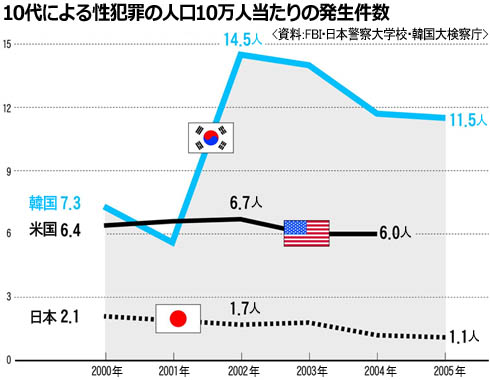 http://www.chosunonline.com/article/20070417000045
---


What to make of this?

Well the first part is unequivocally fucked up, and hopefully the country will try to remedy this situation which has clearly gotten out of hand (not just in this isolated case, but in general as well).

I'm actually not sure what to make of the 2nd part - ie the data. Yes, the reported rates of teenaged rape cases is really quite high. But the very fact that these cases are being reported and are public elucidates the problem and allows politicians and society as a whole to try to fix what is going wrong.

For me personally, I am worried about what the rather low ratio of Japan:Korea rape rates really means. It's difficult to imagine that these countries with such similar societal norms and ideals would have such a disparity in these numbers - leading me to believe that the incidents in Japan are grossly underreported, as they have historically always been. After all, Japan is a country where traditionally the rapee was more guilty and to be shamed than the rapist himself. To come out and publicize being raped was synonymous to public humiliation and social suicide for the woman, whereas the man would frequently be exonerated with only light punishment, if any (yes it's quite fucked up). I do believe and hope that this trend is not nearly severe as it once was, since the country has seemingly progressed socially... at least on the surface.



So this news is really disturbing... but hopefully it can serve as a catalyst for 'fixing' some of the Korean youth attitudes and behavior that have developed recently. Because hey, at least these incidents aren't being shoved under the rug and being concealed from public scrutiny.


edit: I hope it is clear that I am not trying to bash Korea in this post or anything of that form. If anything I'd like to hear from our korean amigos how public this stuff is in korea, how it's perceived, whether pple are trying to do something about it, etc.