Credit goes to Hydro



FC Announcements: PM me for membership. I am also looking for give a distinctive name to the fan club. Post your fanclub name suggestions.

So, who wants some Jinro?



No, no, no. Hold your horses. Soju is for later. First, we want to see some arbiters frozen, some TL.net trolls banned, order restored to the strategy forum, ridiculously high post counts, Swedish moose brigades, and most of all, lots and lots of great Terran play for that one SC2 team with the horse head logo.

We want this guy!


GOM TV GSL 4 Round of 8

He's a big part of TeamLiquid SC2 team in Korea, your MLG Dallas Champion, GSL S-Class SC2 Gosu Terran!
JONATHAN WALSH HWAITING!!!!!

Bio:

Jinro(inter.)
Jinro(kr.)
Jinro
Jonathan Walsh
Sweden
Birthdate: 1989-01-14
Race: Terran
kr.battle.net acct.




GSL Round of 4
Thanks for all the memories!!!




Achievements:
GLS 2011 Semifinalist

GSL3 2010 Semifinalist + Show Spoiler +
MLG Dallas US National Championship 2010 First Place
ESL Go4SC2 Cup #29 Bronze

Jinro as some may know is TL's very own FrozenArbiter, here since the beginning, and addicted enough to the forum to have gutted out more than 30,000 quality (read: not entirely useless) posts! Amazing! Here's a TL forerunner waxing nostalgic about how it used to be.


On December 04 2010 07:30 Carnac wrote:
Did you know Jinro was the 70th person to register on TL (registering within 8 days of the site's existence). Or that he used to sign all his posts with Regards, FrozenArbiter (his original nickname), because that's just what he was: a super polite & nice kid (not even 14 years old) from Sweden.



He's such a super polite nice guy, but beware newbie TLers, he'll still ban your ass if you trash up the forum with nonsense.

Follow Jinro on twitter! http://twitter.com/#!/LiquidJinro

The Jonathan Walsh Experience Member List:+ Show Spoiler +


A working club name for now - maintained by TanGeng

TL Admins & Moderators:
Beyonder
Carnac
Liquid'Nazgul
Zatic

Members: (286)
`Zapdos
.Aar
251
a_flayer
adx2infinitum
Aeres
Aetherial
Afterstar
aidnai
Aisu
alch
amanet
Andypk
Aragos
ariK
Asha`
atomicwedgie
AWakefield
Ayush_SCtoss
Barrin
BaltA
BAMK
belisarius
Bibbit
BG1
bjornkavist
bkrow
Black Gun
blackone
blae000
blazifex
BlazingInferno
BleaK_
bobhund
Boblion
BookII
Born)Slippy
borny
Boundz(Darko)
Brewed Tea
BrodiaQ
BrownBear
brownthing
Bruzze
buhearns
Butz_
caileen
Canx
Caphe
carloselcoco
ccdnl
CEHanner
checo
chocoed
ChristianHanner
ChroMe!
Clafou
CoastHunter
ComusLoM
Confuse
Consuskev
coolpants
corpsecake
CrazyF1r3f0x
Creegz
crms
CroDeadman
CuttyFlam
CynanMachae
Cyrain
D1pstick
da_head
Daedie
dan_dark
Dante08
Dark.Pyro
Day[9]
DarkJackalX
DarkPlasma
DarkPlasmaBall
Darksteel
DennizR
Dezire
Dia
DminusTerran
Domski
Double_O
DrainX
Dreamer.T
drooL
dubRa
EchelonTee
ECHOZs
eddytlaw
ed21x
EdSlyB
eFonSG
EiNiS
Eishi_Ki
ELA
Endorsed
enigaml
eNyoron
Epoch
Ertu
ESPEWS
Euronyme
evantrees
Exigor
fabulously
facefart
falcon913
Falling
FetTerBender
FieldsOfCarp
fofa2000
folke123
Forgottenfrog
froadac
frozenclaw
FrozenSolid
FunKaDeLiC
G3nXsiS
gann
gbglass
geenobu
ggrrg
GhandiEAGLE
GHOSTCLAW
gibb
gillon
GimbleB
GiMMiK
gnm
godemperor
gravityy
Grayfox-BE
Greatjnight
Gridlock
Gruv
GummyZerg
Halym.
Hassybaby
Healingproof
Helios
Hellie
hellohilo
hifriend
Hirmu
hmunkey
Holgerius
humblegar
Hyren
iamahydralisk
Icemind
Ico
IndigoCZ
Indrium
Inertia_EU
Inertiaddict
invader2
Irave
IronMan
isbunk
Jabberwocky
JoeCrow
joen05
Joestar
Jibbe
Jiddra
Jimmycliff
jmpy
joen05
joheinous
Jsanko
Kahzaar
Kallen
Kalpman
Kamais_Ookin
Kawaiiryuko
Kawamura
KeiQQ
Kenpachi
kenwoo
Kerotan
Keype
knL
Kolvacs
kOre
Krafty
kusu
L0thar
lacho_u
Lafali
lakritzc
Lanfire
LanTAs
Lenny
LG)Sabbath
Licmyobelisk
LittleeD
LogiiK
Lost.150
LoLAdriankat
LuKe1337
Lylat
Maiaral
Majk
Mario1209
MaRkieMark
maybenexttime
Megaliskuu
metzGRR
MHT
MnMOptimus
mOnion
Monsieur
Moonloop
Morlune
MotoProto
Moxi
moxley
mprs
MrCon
MrSweetNess
Munk-E
Mutality
MyOrcIsBigger
n0xi3
Necosarius
Nemasyst.598
NeonTurtle
never_Nal
Newguy
NExt
Nifel
Nightmarjoo
nilleforthewin
nimbus99
Ninja4ever
NoobieOne
Norx
npnl.Bleu
NuKedUFirst
Numy
OmgIRok
OneThreeOne
osten
p4rasite
papyrus
Patriot.dlk
pAzand
Penke
Pepolino
Phineas
Pieismyign
Pixalize
potsie
Proto_Protoss
Protoss_Carrier
Pulimuli
pyro19
r33k
Rabbitmaster
RageBot
Raiquer
rastaban
rebdomine
Remfire
rmolin88
RogerRus
Rombur
RPR_Tempest
Ryncol
ryuu_
s[O]rry
s.a.y
SadDragon
samiamquinn
Sandbox
ScDeluX
SCVanguard
Seeker
Sega92
shaippen
ShaperofDreams
shell
Shellshock1122
ShiningTwilight
SiegeFlank
SiguR
Sikozu
SilentLight
Slayer91
sleepytime
smallerk
SmoKim
sojiplayer
Solaris.playgu
Solomoth
SoMuchBetter
SpaceAnt
Sprungjeezy
SpurvL
Squarewalker
StarcraftNerd1547
Stenstyren
Steveacron
stormtemplar
Subversion
Sultan.P
superarmy
supersoft
Svenofnine
Synchro
Taawus
tabbott26
Talin
TAStarScream
TemplarCo.
Tengil
Tennet
Tergeron
ThatsNoMoon
The Final Boss
The KY
TheAngelofDeath
TheEmulator
Thegilaboy
themrchook
Thesidu
thoradycus
Thunderflesh
Tobberoth
Tomken
Treadmill
Treeplant
Trppledo
Triscuit
Trizz
TsoBadGuy
twylight
Uniden
unit
UniversalShip
uppTagg
uSnAmplified
ValM
VIB
Vindicate
Viperzero
Vod.kaholic
Waterflow
Weird
WellDuh
Welmu
Winters
wishbones
Whiplash
Yami_no_cosmos
yangsook
Yourhighness
Zeddicus
zeemless
zekie
Zeles
Zephirdd
ZeraToss
ZeroCartin
Zeros
Zeri
Zhou
Zozo




Pictures and Sightings+ Show Spoiler +

lilsusie and FrozenArbiter
Jinro GSL3 Ro16 sporting the beanie
Jinro after GSL3 Qualifiers
Jinro Holding the Giant Check
Jinro @ MLG Dallas
The sweet, sweet taste of victory in Ro8.



Interviews+ Show Spoiler +

TL Quotes+ Show Spoiler +

GSL3 Lost in the Translation

On December 01 2010 22:07 Liquid`Jinro wrote:

Omg TT

This is not what I said, they asked if it was stressful playing a legend, and I said "No, as long as hes famous AND skilled, and not just famous, theres no stress".

Fuckkkkkkk I look like an asshole now lol

Also I didnt say I practiced with Binese, I said I practiced with Luvsic,,,,,,,,, sigh TT

The TL Forum addict minutes before his own televised GSL Ro16 games

On December 03 2010 20:50 Liquid`Jinro wrote:
Fuck yeah :D

GOGO MC

Describing the addiction in his own words a few years ago.

On October 31 2006 07:19 Liquid`Jinro wrote:
And yes, I do spend way, way, way, too much time reading tl.net. If I'm playing, and there's a pause between two games (ie 'brb water/hold on a sec') I'll check tl.net.

If I'm watching a movie, I might check tl.net.
If I'm putting off going to sleep - TL.net.
If I'm bored - TL.net.
; [ Need to do something (school etc)? TL.net!




Fan Art+ Show Spoiler +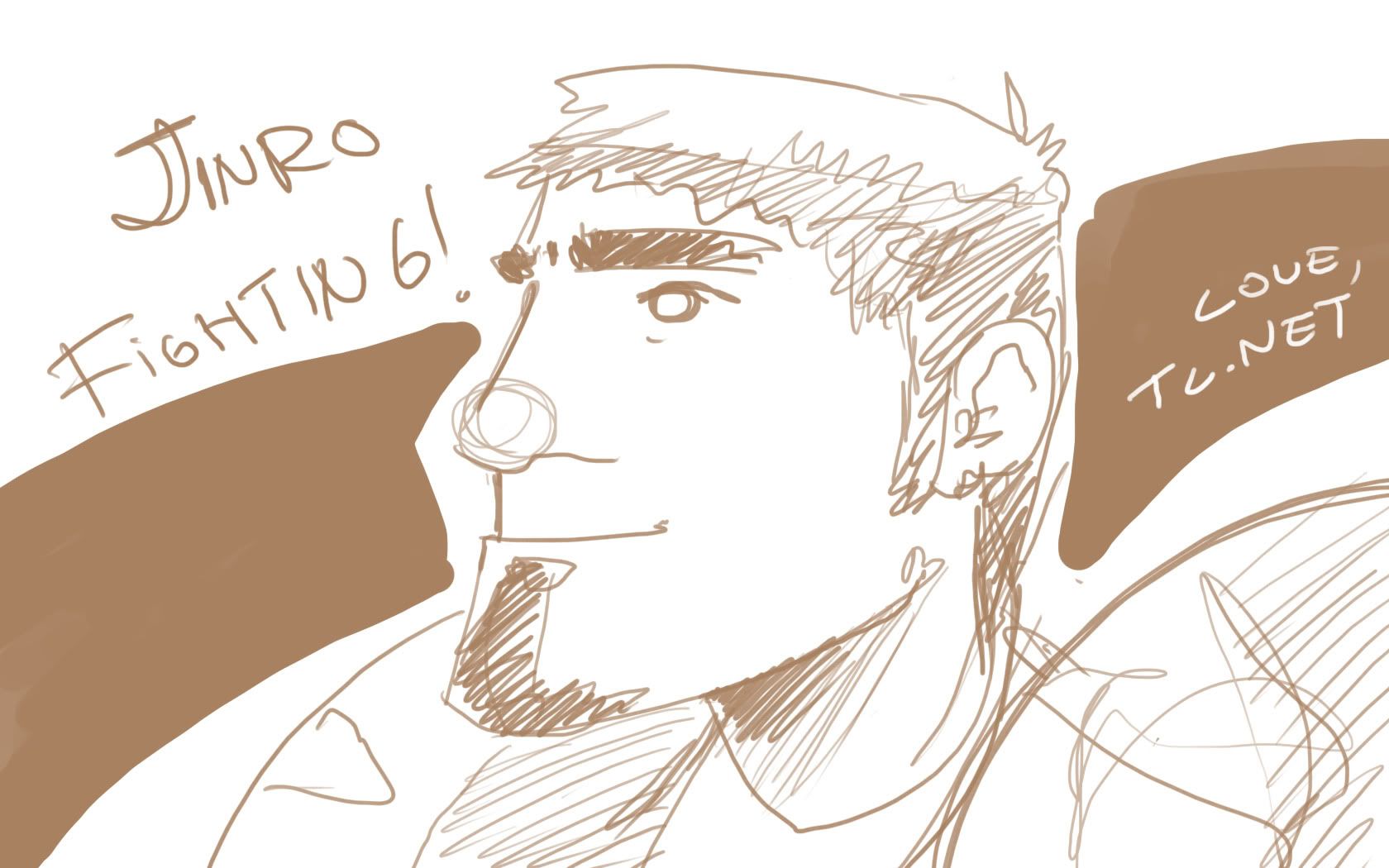 (hattip: ZeroCartin)
(hattip: z00t)
(hattip: baltar)
(gimbleB
(hattip: geenobu)
(hotbid)
(a fan at GSL3 Ro32)
(a fan at GSL3 Ro16)
(HollowLord)
(nakam)
(courtesy of Asha`)
(unknown via PlayXP - MC & Jinro : John(who is this guy?), Idra, and Tasteless - I think)
(by Diks)
(a picture in search of its creator)
(ZeroCartin)
(M.L.S. aka Kismet349)
(vinn)
(more vinn!!!)
(ZeroCartin)



Day9 Features+ Show Spoiler +

Since Day[9] is such a fan, I 'jacked his content.

11/18 Day[9] Daily #0220 Starcraft 2 Jinro vs Moon: Jungle Basin(

Blip.tv

)

7/06 Day[9] Daily #0152 Starcraft 2 Jinro vs Lalush: Epic TvZ (

Blip.tv

)

6/03 Day[9] Daily #0130 Starcraft 2 Day[9] vs Jinro's Mech (

Blip.tv

)

4/12 Day[9] Daily #0099 Starcraft 2 Jinro vs Naruto TvT - Steppes of War (

Blip.tv

)

3/31 Day[9] Daily #0093 Starcraft 2 Nazgul vs Jinro - Desert Oasis (

Blip.tv

)

3/24 Day[9] Daily #0089 Starcraft 2 Jinro vs Haypro - Desert Oasis (

Part 1

) (

Part 2

) (

Part 3

)

3/22 Day[9] Daily #0087 Starcraft 2 Jinro vs Lucifron TvT - Kulas Ravine (

Blip.tv

)



Liquid`Gossip+ Show Spoiler +

So join in on the club, cheer on the man, down a few cups of cham ee sul, and go out into the streets and sing his praises. You've been JINROOOOO'D.

Feel free to post anything of interest or suggest anything to add. PM if you think I ignored you.

Disclaimer: Fan club does not have expressed approval of Jinro or of any representatives of Jinro. It is an independent collection of alcoholSC2 fans dedicated to a Korean liquor company Swedish pro-gamer.