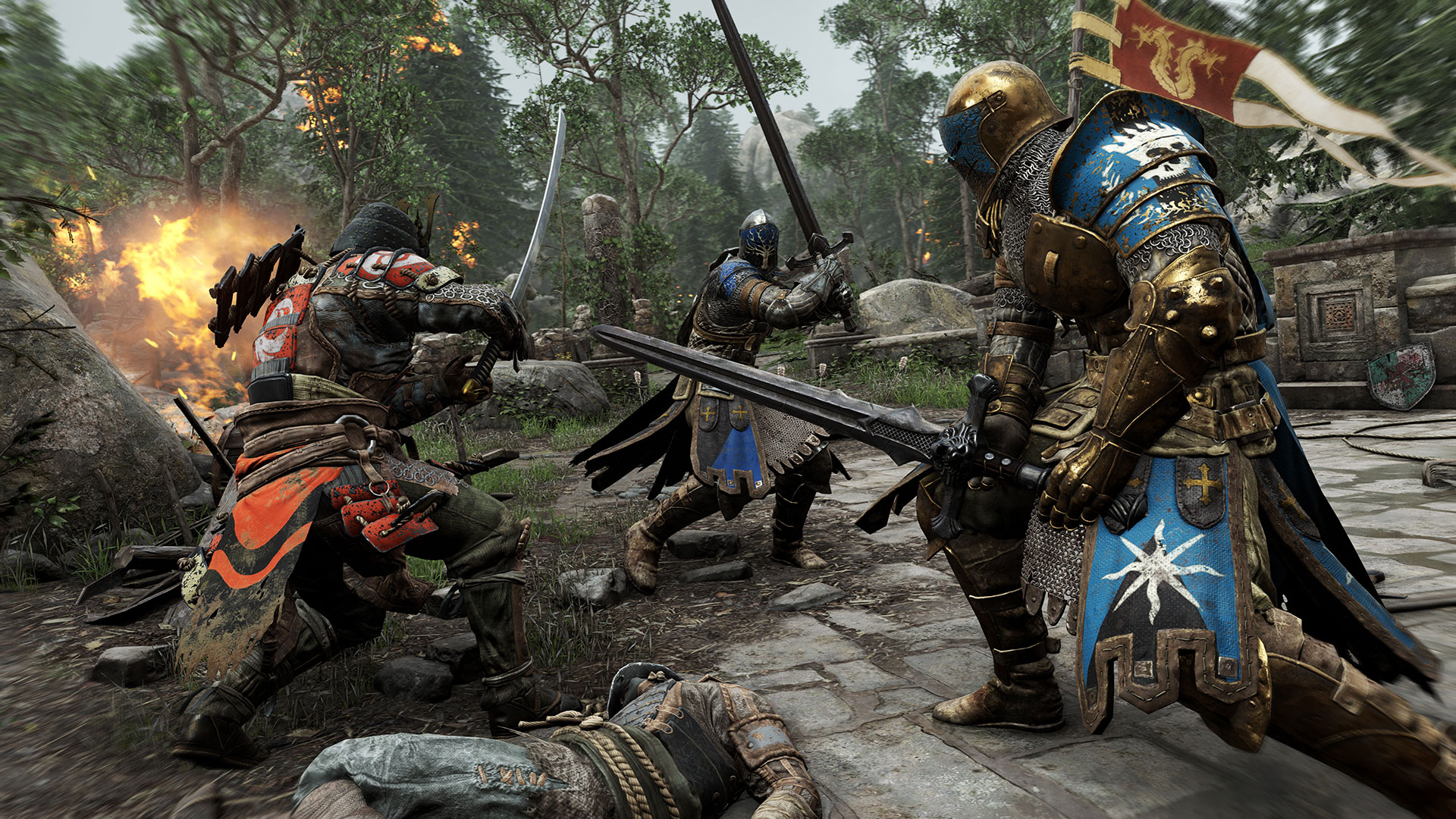 Described as a "shooter with swords," this game is, for me, the coolest thing to come out of the last two E3s. Play as a Knight, Viking, or Samurai and duel with a unique combat system "The Art of Battle." Attacks and blocking is directional, so if you see your enemy shifting their sword right, you'd better block that way. You can also bodyslam, pommel-strike, throw a knife, or call for archers if you want to even the odds a little. The combat feels extremely physical and visceral, with a weight to one's weapons and motions that most games lack.

The game is multiplayer at its core, but does have a campaign where you play as a nameless hero from each of the three factions. In normal games, you play shooter modes (e.g. point capture) while streams of AI grunts give the game a bit of that MOBA feel. The campaign can be played co-op, and is meant as an entry point to the multiplayer.

+ Show Spoiler +
+ Show Spoiler +
+ Show Spoiler +

Release is currently scheduled for Valentines Day next year. Happy Valentines!

What we know so far:
+ Show Spoiler +

Classes+ Show Spoiler +

NB: all stats are estimates, and rough ones at that.

KNIGHTS+ Show Spoiler +


A: Peacekeeper (arming sword + parry dagger)
Light armor, agile.

V: Warden (longsword)
Medium armor, versatile but middle-of-the-road.
HP: ~130.
Light Attack: ~10-15
Heavy Attack: ~20-40

H: Conqueror (shield + flail)
Heavy warrior, tough and shielded.
HP: ~140

Y: Lawbringer (poleaxe)
Very heavily armored, carries poleaxe. Powerful but unwieldy?

VIKINGS+ Show Spoiler +


A: Berserker (dual axes)
Fast attack speed.

V: Raider (great axe)
Heavy armor, but no shirt. Just a beast. Slower attacks, but powerful.
HP: ~140.
Light Attack: ~10-15
Heavy Attack: ~30-50

H: Warlord (shield + sword)
Heavy warrior, tough and shielded.

Y: Valkyrie (spear)
Lighter armor, but shielded.

SAMURAI+ Show Spoiler +

A: Orochi (katana)
Quick attacks, good dodge. Weak blocking.
HP: ~120
Light Attack: ~10-15
Heavy Attack: ~20-40

V: Kensei (nodachi)
Less durable than other Vanguards but better on some attacks.
HP: ~120.
Light Attack: ~15-25
Heavy Attack: ~20-40

H: Shugoki (club)
Heavy warrior. Powerful but slow attacks, capable of significant knockback.

Y: Nobushi (spear)
Light armor. Agile.

Blocking and hitting:+ Show Spoiler +

Lock on combat. You pick a stance: left, right, or top. Your enemy does too. You can shift back and forth, and the idea is to either avoid their stance and attack to score a hit, or match their stance to block, staggering them and allowing you to counter. If you block successfully, you have a moment to get your own hit in. A block or parry makes you invulnerable for a few moments, which is essential if outnumbered.


Moves+ Show Spoiler +

Light Attack

: Quick attack. Does 10-20 damage for classes we've seen so far. Variable damage, like all attacks.

Heavy Attack

: Wind-up attack. 20-50 damage for classes we've seen so far. Can be cancelled mid-animation to feint and switch to another move or direction. Does chip damage through blocks.

Execution

: Finish him! If you kill an enemy with a heavy attack, you have a few moments where you can execute them. The animation leaves you vulnerable for a few seconds, but grants bonus XP (and maybe victory points?), increases their respawn delay, and makes them unable to revive. You regain some health as well.

Parry

: Advanced block. Perform a heavy attack at the moment of contact during a block to stun the enemy and drain their stamina.

Guard Break

: Interrupts guards (and I think attacks?). A shove that stuns the enemy for a second. Double hitting the button causes a more powerful version, depends on class. This more powerful version is usable to knock enemies off heights or into dangerous objects like spikes and fire.

+ Show Spoiler +

Raider does a linebacker grab and run, Warden is I think a kick, Orochi maybe flips over enemy and pushes them? Hard to tell what moves come from what button combos, and I know Warden has a shoulder-charge too.

You can stop an enemy from successfully guard-breaking you by performing a break yourself at the same time.

Combos

: Little is known about these so far except that they exist. There's a lot of fighting game kind of combinations each class can do that do cool things. A few unblockable attacks exist as parts of combos. The third sequential attack seems to have special power. The Orochi seems to be able to attack seemlessly after a dodge, and the Warden has a few different melee attacks we've seen, and r/forhonor is convinced they can do an autoattack after upward block, though I've seen no evidence of this

(Correction: this is a thing. Watch the Polygon video at 20:30 to see the seamless counter, similar to how the Orochi counter works)

. Again, I'm pretty sure the level of play we've seen so far makes it hard to say much about combos, but we do know many exist.

Dodges:

Sidestepping, jumping back, and dodge-rolls are all a part of the game.

Feats

: Various special abilities are available in game and seem to vary so they are probably chosen pre-game. Apparently at least faction-locked, maybe class-locked. You earn XP as the game goes on, allowing you to unlock up to 4 feats. They are generally not very high impact compared to skills in other games... the fighting part stays as the core of the game. Known feats include (I'm sure I missed a ton, and they were ignored by many players):

+ Show Spoiler +

Knights:
-Flashbang (blind enemies at target area for a moment)
-Fire grenade (target area deals damage over second to enemies in it)
-Catapult Strike (after a few moments, anything in target area gets smashed by big rock)
-Rally (your dudes get stronger)
Vikings
-Speed Boost (you run fast)
-Berserk (gain speed/stamina/attack)
Samurai
-Smoke grenade (obscure UI and block vision for several seconds in a large area)
-Self heal
-Throwing knife

Game Modes+ Show Spoiler +

CAMPAIGN

: Kill 'dem AIs. Bossfights aplenty. Knight campaign, then Viking, then Samurai, BW-style. Endboss named Apollyon.

1v1

: Yup. Duel somebody and fuck 'em up gud.

2v2

: Find a buddy and kill somebody else and their buddy.

4v4

: You kinda get the idea. Straight 4v4 is called ELIMINATION.

CONQUEST

: The primary game mode, and the only multiplayer one we've seen footage of so far.

Left, Right, and Center capture points. At Center point, called "the Front," swarms of little AI dudes fight each other. You can kill these guys in one hit (some cleave attacks can get a few at a go.) They are able to hurt you in larger numbers, but as long as you don't get surrounded you're pretty safe.

Left/Right are uncontested by the AI, so you can fight your glorious duels here. Fewer points per second to hold these, but they can heal you if you stand in them while they are held uncontested by your team.

You get 1pt for killing minions, 5 for killing players, some for holding a point, and 2/s for guarding a point (standing on it uncontested). XP/Renown is a separate system that earns you points personally for feats, using basically the same sources of points, but with granularity for how you scored the kill etc.

You also get 100 points for each point you hold. Confusingly, these points are not permanent. If you have 1001 pts and lose a point, you are at 901. This turns out to be really important because...

At 1000 pts, the enemy team is "breaking." This means their heroes stop respawning. Kill them to end the game. However, if they are able to take a point and get back under 1000, they stop breaking and their dead heroes respawn. Some cool comebacks are possible because of this. There is some kind of stalemate resolution, which I think is auto-lose after 4 min while breaking.

+ Show Spoiler +

The final game of that Paragon video has the attackers lose with the defenders at 1583 pts. After they were breaking, the attackers clumped into a 4 man ball and played it safe, but surrendered map control and fell increasingly behind in points. I think it might be time sensitive: the team is continuously breaking for 4min0sec.

Team Play+ Show Spoiler +

As anyone who has ever been in a fight knows, it is VERY hard to fight 2v1. Don't do it. Communicate with your team-mates, try to fight on even numbers, and if outnumbered just try to keep them busy so your buddies have a better time of things elsewhere.

Blocking: A red arrow will indicate an attack from an enemy other than the one you're locked onto. You don't need to match their guard to block, only the side they are coming from. Some evidence indicates you need to block top to stop top attacks even from the side (which makes intuitive sense). If you block an attack, you cannot be hit for a second, so get some damage or distance.

Revenge: If you block enough attacks or take enough damage, you enter revenge mode. After a little animation (which leaves you vulnerable and during which half the youtubers got killed like chumps), you knock down adjacent enemies and gain super-blocks and faster attack speed. Your revenge bar fills faster if multiple opponents are locked on to you. This means a clever player can really fuck up multiple opponents if they play smart and stay alive until revenge allows them to take the fight to the other guys.

Why you shouldn't fight when outnumbered
-The enemy, if coordinated, can attack from two sides and make it very hard to block (though, if you catch the first one to connect, you can auto-block the other).
-If you die, you're pretty dead. If they lose a guy, they can revive him if they kill you quick enough.
-If you're on the Right or Left point, they can heal all the way after killing you unless it gets contested.

Do note though, that there can be an advantage to having a guy 2v1 the bad guys then have another guy sneak up on them. The tank can fill up with revenge, while the reinforcement guy can eliminate a weak enemy from behind, and can revive the tank if the tank dies. Because of this, it can be a good idea to pair off in even number group fights rather than ganging up.