Its Time... for an EVENT UPDATE!!!!!!

Okay folks! Happy new year! we would like to thank you all for your patience with waiting for information on our E-League and Vancouver Starcraft 2 open!

This update is in regards to our Vancouver Pwnage SC2 E-League!
We are now accepting registrations for our league! those who register will receive an email with a package explaining how the league point system works, and where we will be posting the schedule.

The registrations are limited! We are accepting 20 registrations for Division 1 (Diamond to Grand Master) and 20 Registrations for Division 2 (Bronze to Plat).

There is NO FEE to enter this league. it is purely sponsor sanctioned, so when we announce our sponsors on the night of our first matches don't forget to thank them and give them some shout outs!

If we fill up all of our slots we will have a waiting list for those who did not make it into the ladder. The ladder is a first come first serve basis. If someone decides to drop out of the league we will contact the next person on the waiting list if they wish to enter the league.

Registration is NOW OPEN! We will be closing registration January 25th. To register. Send an e-mail Events@vancouverpwnage.com
Subject: E-League
Information needed in e-mail:
First and last name
Battle.net ID you will be playing with.
Race you will be competing with
Your battle.net Ladder League.

First matches will be announced on January 27th!

Good luck and We look forward to a great Season!

-Vpp


The Vancouver Starcraft 2 open is to be postponed until further notice.

We are deciding to postpone the event because all criticism as well as questions have been heard and unfortunately The time line we had to work with to try to rectify some concerns was just not long enough. Some of these issues are as follows.

Age Restriction to 19+. We are going to work on making it an ALL AGES events. we have found a way around the age restriction but in order to have the restriction removed we would not be able to hold the event in January.

Bring your own computer - We there were few that were not into the idea of bringing your own pc. Those with gaming laptops had not much of a complaint but those with desktop units did find a issue with getting to and from and also the possibility of having to move stations and the time it takes to. We are working on a better system for that.
ie: having some available pc's for rental if you cannot bring your own.

Some issues we have resolved.
Cost of the event. We had brought down to $20.00 and that will be the price for when we restart registration soon.

Bracket - We have removed the BO1 elimination round and made all rounds best of 3 up until the Semi Finals.



For those who have Pre Registered for the January 6'th date. You will continue to hold your registration, as well as hold a priority status for our registration. You will have a guaranteed seat at the next VSCO.

With this we would also like to announce that within the next week or so.We will also be announcing our Vancouver Pwnage Starcraft League. This will be an online event. The season will last for 9 weeks with 2 set days per week for games. it is ALL AGES. More information will be up on www.vancouverpwnage.com about that. We are also holding spots for our pre registered guests from the VSCO.

This league will be FREE to compete in. it is completely sponsor sanctioned so expect some wicked weekly prizes during the week. We plan on having the one game day for League points. and the next game day for Points as well as a weekly prize.


Again we apologize for the inconvenience with the postponing of the VSCO and we will keep you updated as to the new date of the event.

Sincerely


Vancouver Pwnage Promotions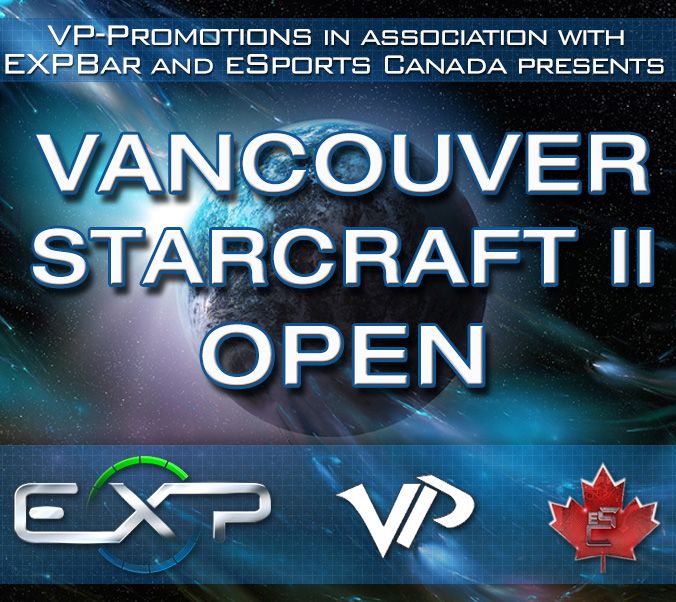 This event will be streamed on
VPP's Stream
and will be casted by NASL's Ben "Mr Bitter" Nichol and BaseTradeTV's Graham "Rifkin" Rogers





Ohana
Cloud Kingdom
Daybreak
Entombed
Antiga Shipyard
Atlantis Spaceship
Metropolis



All games will be best-of-3 elimination until the semi finals when we change to a best-of-5 format. Maps will be vetoed until the right set of possible maps is found, until the quarter-finals, at which point a predetermined map will begin each series, with loser's pick of the next map.

spectators and eliminated players will be able to compete in a variety of fun competitions and side matches throughout the tournament

Elimination - Ohana
Quarter-finals - Entombed Valley
Semi-finals - Daybreak
Grand Final - Cloud Kingdom





FORMAT:
Divisions Will be as follows:

Division A - Bronze to Gold
Division B - Platinum to Diamond
Division C - Masters to Grand Masters

Your division placement will be determined by your Highest league placement on the battle.net Ladder. No exceptions. This has been put in place to make a fair event for all.

All players must play as the race they sign up as. Playing as Random will result in disqualification.

PRIZE POOL:
Divisions A and B will be Sponsor Prizes to be announced January 1st
Division C - Masters/Grand Masters will be Cash Prizes.
( This is based on an estimated amount of entries. Exact prize pool will be announced when registration close's on the 1st of January)

20 Entries $300.00 Prize Pool
1st place - $200.00 75%
2nd place - $100.00 25%

30 Entries $450.00 Prize Pool
1st place - $225.00 50%
2nd place - $148.50 33%
3rd place - $76.50 17%

50 Entries $750.00 Prize pool
1st Place - $375.00 50%
2nd Place - $247.50 33%
3rd place - $127.50 17%


This event will be "B.Y.O.C" (bring your own computer).
Lap Tops will be the Preferred PC to bring as it is easier to move from station to station during the tournament. If you plan on bringing a Desktop PC you must PRE REGISTER and let us know you are bringing a desktop computer so we can assign you a station.

Any Un-Sportsman like conduct will result in disqualification as well as removal from the event.
Involved with this venture are persons well versed in tournament set up and administration. We believe we can make this tournament a very enjoyable experience for both Competitors and Spectators!

We are always open to suggestions feel free to post here or email us at info@vancouverpwnage.com

Thank you for your interest in this post and lets make this happen for Vancouver!



A lovely shout out and thank you to the sponsors of this event, without them this wouldn't be possible:

The EXP Bar
eSports Canada
Game Deals