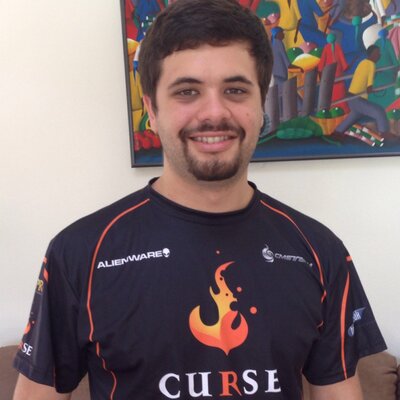 Crs.Hungrybox
TeamLiquid.net's ]343[ recently got the chance to talk with
Juan "Crs.Hungrybox" Debiedma
, a Jigglypuff player from Florida commonly hailed as one of the
"Top 5"
players in Melee today. Hungrybox is known for his deadly punish game and his methodical, patient play.
And, of course, his rests.
---
First of all, congratulations on your 2nd place finish at Pat's House 2! How was the tournament?
Pat's House 2 was a good tournament for sure. There was lots of setups so people could play constant friendlies, and I think Pat (Azn_Lep) did a great job of hosting as well. Great venue, I think it belonged to UCSD. A lot of Cali's talent came out, though I would have loved to see Lord there.
Your bracket run was pretty dominating: other than Mew2king, only Westballz was able to take even a game. What do you think of the "gap" between the "top 5/6" and the next tier of players? Who's closest to bridging this gap?
Leffen is essentially the bridge at this point, but the moment he beats a top five player again that isn't Armada he's definitely looking to take a place next to the "gods" so to speak. Hell, he might even replace Armada if his performance doesn't keep up like the way it would have a couple years ago. But yeah; there's most certainly a gap. I feel like myself and the other top five share this ability to dissect other opponents with ease. We know exactly how to combat everything they throw at us.
How about immediately after Leffen? Is anyone else close?
Apart from Leffen, I would say aMSa for sure. Plup and Colbol are from Florida so I'm biased, but I do believe their performance at Apex 2014 speaks for itself. Especially Colbol, who beat aMSa and a ton of other top players. After that, it's just a big melting pot of potential: Nintendude, Chillin, ChuDat, Fly, KK, Hax, The Moon, DJNintendo, and countless others who are trying to make their place among the legends of the game. But I'm very confident I'm going to beat Leffen and Armada if I play them again. I know what to do against their tricks now.
Nowadays, there are a number of top players—Armada, Hax, and Plup, to name a few—who seem to be either switching to Fox or picking up Fox secondaries, often for the Puff matchup. Do you think this trend will continue, and are you considering picking up a secondary to use vs certain Foxes?
I always mess around with secondaries. I have a shitty Falco which does randomly well every once in a blue moon, and I keep a pocket Ness for a surprise factor. But let's be honest – I don't think I'm going to use any other character against the top players. I understand Puff far too well to even bother using anyone else if its results I'm looking for.

Jiggs can do it. It's bloody difficult, but it makes the victory that much more exciting.
Though Puff vs Fox is often said to be in Fox's favor, your Puff vs Fox has clearly been improving in the last few months, seeing as you took down Mew2king at GOML; what have you been working on and what parts of your playstyle have you been adapting to combat Foxes?
Aggression, Adaptation, and Anonymity. Triple A, man. With emphasis on the last one.
What do you mean by "anonymity"?
Exactly.
Let's move on to some questions about regions. Was there ever a time back in 2008 or so when Florida was considered one of the strongest regions, having you, DaShizWiz, Lambchops, Linguini, etc.?
I started getting really good at Melee right when Brawl came out. There was a period of time where I would attend tournaments and get rocked by players like Colbol, Shiz, Chopz (he goes by whiteboywasted now), KeepSpeedN (Shiz's little brother), Phanna, QDVS, and many others. I was simply stunned at the level of talent, but I'm sure I would have felt the same anywhere.

It's hard to say how strong I felt FL was compared to the rest of the world because I didn't know too much outside of FL. Only the big names – I started getting good right when Mango won Pound 3. A couple of months later, I beat M2K in a crew battle. So I knew that was the start of something special.

But Florida today has a super solid selection. Take our top five: Myself, Plup, Colbol, Pork Chops, and then a tossup between BleaGelo and Gahtzu. Pork Chops is this incredibly unique Falco which improved at a pace similar to aMSa, while Blea and Gahtzu have the best Luigi and Falcon in the state respectively.
Do you think Florida is the second strongest state today?
I think so, but it's hard to say. That's why I'm really excited about these regional crew battles.
Also, speaking of Plup – he's probably considered Florida's second strongest player now. Plupbox has been a super-strong 2v2 team at nationals for a while, though few outside Florida seemed to know about his 1v1 skill until recently. Did you and Plup start getting good around the same time? What's the history of your teaming with him? How strong is the Puff/Samus team composition?
Hmmm well he was just a guy who out of nowhere started placing super high at tournaments, but then after I got to know him a bit... and I suppose we got good around the same time.

Puff Samus shouldn't be a strong team, but it is. Darrell/Darc were this close to beating me/M2K, so it speaks for itself.
You're currently in Arizona for a summer internship. Who are you most excited to play against?
I got to play Axe for a bit, but all the good players are about an hour away unfortunately. I just want to play anyone who is down. I have a great streaming setup ready to go so I'm hoping I could host a fest here at some point.
During the year you're a full-time engineering student at the University of Florida. How do you juggle being a pro Smash player with your studies?
Well, I study with a close friend (Jacob) every day and we play smash in between homework, but he's more casual competitive. Other than that, I honestly find myself not playing for a week at a time. I didn't play smash at all between GOML and Pat's House 2. I think I play less than any other top player unfortunately.
Other than Dr. Peepee, who was also in school until recently, it seems like the other top Smashers all have more time to play. Do you think not being able to play as much has made it more difficult for you to beat the rest of the top 5/6? Despite your consistent placings, some think that due to your recent performance vs them, you're in the "bottom half" of the top tier of players. What are your goals and ambitions for this year—especially at MLG, EVO, and CEO—to help change that perception? Has being sponsored by Curse changed your goals in any way?
It's definitely hard because I have to keep up my level by practicing everything basically the day before a tournament. But even for GOML, I ended up doing well because I happened to play a week or so beforehand.

I'll be streaming for Curse, which gives me more incentive to play. I downloaded Netplay on a good comp so when my USB adapter for Gamecube gets here I hope to play a lot more.
And what are your goals for MLG (for which you're already qualified), EVO, and CEO?
1st all the way. Do the best I can.

And I'm gonna have a birthday party during CEO haha.
Who do you consider your biggest rival?
Mango. Always will be.
Who are two up-and-coming players, one from Florida and one outside Florida, that we should watch out for this year?
Pork Chops and Lord.
What's Jigglypuff's most underrated move?
Rollout!
What legal stage would you like to ban, and what banned stage would you like back?
Ban Pokemon Stadium, unban Jungle Japes.
What's your favorite Melee set or match that you didn't play in?
Ice vs. Over ROF2 was insane; any set with aMSa, any set with Shiz against a top player... too many to count.
Does standing actually help you play better?
Yes, especially against spacies.
How do you feel about being invited to the E3 Smash 4 Invitational?
It's quite the honor. I know Nintendo hand-picked everyone for one reason or another, and the fact that I was finally noted by one of the companies I've cherished since I was three is nothing short of a spectacle. I feel like my hard work and dedication to the community paid off, and I'm going to take advantage of this as much as I can. I'm also really excited to try out all the new characters and explore the physics in Smash 4.
What are your thoughts on Mang0 and Mew2king not being invited? How do you feel about you being invited, but not your biggest rival?
I suppose that I'm indifferent to it. Nintendo was the one who made the call on that, and for whatever reason they weren't included in the 16-man roster. They're both very talented players, and I'm sure they would have pushed the limits of the game even on day 1. I take what I can get, so the fact that my rivals aren't there won't really detract from my experience. I'm sure I'll face them both in future Smash 4 tournaments.
Who do you think will be the best at Smash 4, and why?
Mew2King for one. He's just known for dissecting any game he plays to its bare numbers and mastering all facets of it. He's also a top contender in every iteration of Smash Bros. so far, so the history doesn't lie. It's just what he was meant to do - live off of Smash Bros. There's of course many people whose skills will transfer over from Melee/Brawl to Smash 4, but a kid named Wizzrobe from Florida is also one of my predictions for being a top player. He's what I consider prodigious and has no problem immersing himself into new titles.
What do you think will happen to Melee and Brawl when Smash 4 is released?
It takes a community to make a game live, and it takes the same community to keep it alive. Melee and Brawl diehards will always exist in some shape or form because those are the games they love. Even if Smash 4 is a greatly enhanced Smash Bros, it's naturally going to have different mechanics and implementations. That's not a bad thing by any means, but you know that there never really will be a game like Melee or Brawl again - they were made to their own unique perfection, and I don't doubt that Smash 4 will follow in its footsteps. And with Nintendo's inclusion of a Gamecube controller adapter, it's clear that they have one thing in mind - an incredible title.
Most of TeamLiquid.net is new to competitive Smash. What's the best way for someone new to the scene to get started?
Watch streams and videos, and go to tournaments.
And what are the three most important things for a new Smasher to practice in order to become a competitive player?
Tech skill, spacing, and calmness under pressure.
Definitely important! Any last shoutouts?
Team Curse! Cooler Master and Alienware for the great equipment, and Energems for powering me through GOML. And shoutouts to central Florida, all the bros there. Follow me at
@juanthefatty
, and watch my stream at
http://azubu.tv/hungrybox
.
Thanks Hungrybox! Good luck at all the big tournaments this summer, and at your internship!
Thanks man!
Interviewer: ]343[
Editor: Hot_Bid
Graphics: Shiroiusagi