This is a series of interviews with Teamliquid staff members about StarCraft, eSports and what it takes to run a site like Teamliquid.net
The first interview was conducted with Ben
'
motbob
'
Burdett. The second interview will feature the creator of many useful tools and programs:
R1CH
The Tech Guy
The third interview will feature Jesse
'Plexa'
Hart who is a TL.net Admin The fourth interview features TL red name Michael 'p4NDemik' Staverman The fifth interview features TL Marketing Manager James 'Kennigit' LampkinThe sixth interview features TL red name George 'flamewheel' ZhaoThe latest interview features TL red name Vince 'Pholon' Kwakkel
Some of these interviews are up to 40 minutes long.
Each video includes timestamps in the description where you can just jump to the desired topic.
---
Picture:
+ Show Spoiler +
Interview: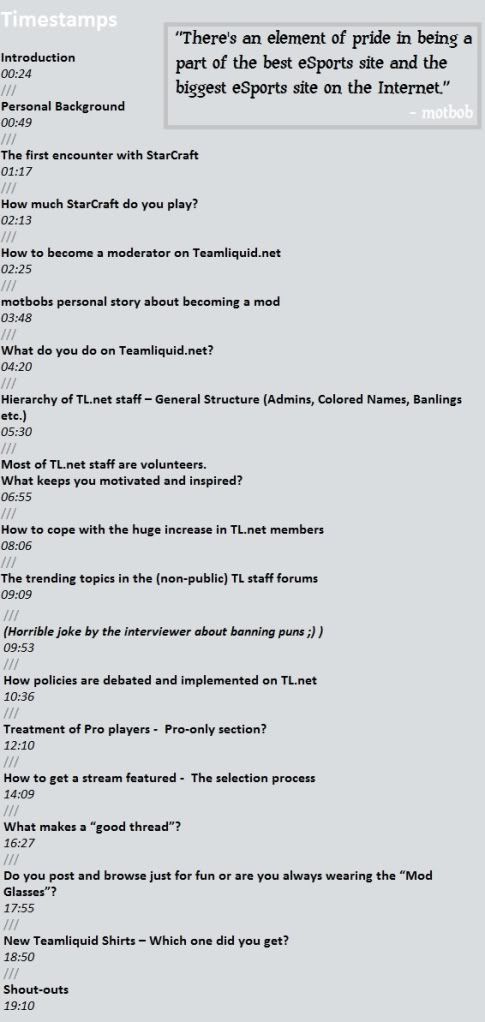 Here is the link to the excellent
guide on how to win
. Don't know what this is about? Listen to the interview.
---

Timestamps:

+ Show Spoiler +
Introduction
00:28
Personal Background
00:47
First encounter with StarCraft and Teamliquid.net
01:53
What degree did you do at University?
04:18
Your job at Teamliquid
04:32
Is there any job you would rather do than working for TL?
06:28
What projects are you working on right now?
07:12
Big changes to TL.net in 2012
07:48
How much time do you spend on the forums?
09:00
How to get a stream featured.
09:28
Credibility of news sources on Teamliquid.net
10:36
Professional players on Teamliquid.net
12:10
Dealing with increasing member numbers
13:19
Homestory Cup IV Predictions
15:55
Shout-outs
16:40

---
-coming soon-
---
Topics and timestamps:

+ Show Spoiler +
Who is this p4NDemik guy?
01:23
Personal background
01:56
Will you pursue a career within the gaming community?
02:38
Hobbies
03:18
What got you hooked on StarCraft?
03:56
Comparing BW and SCII
The difference as a viewing experience
05:20
Two favourite moments in StarCraft history
06:52
TL.net staff – meeting in person
09:26
What do you do exactly at Teamliquid.net?
Database
11:23
Moderating
13:24
What kind of posts make you most angry?
13:54
Teamliquid Twitter
15:50
How much dialogue is there between you guys at Teamliquid and Blizzard, if any?
17:10
Communities around video games? The key to maturing as a mainstream media?
18:10
What league are you in?
19:50
Do you stream?
20:00
Is the acceleration of the eSports scene around SCII sustainable?
20:13
As eSports grows, will personal interaction e.g. between players and fans decrease?
22:18
Should the community decide which streams are featured on Teamliquid.net?
23:40
Favourite SCII Team
25:20
Which player would you add to the roster of Teamliquid?
26:04
Teamliquid roster: Marry, Have Sex with, Kill, Wingman, Personal hero...
27:15
Impact of the Heart of the Swarm release
32:15
The need of a regulatory body (like Kespa) in StarCraft II eSports (relating to Naniwa, Stephano)
33:45
What Broodwar players will be dangerous when/if they swap over to SCII?
35:19
If you could have one feature from another sport or eSport brought over to StarCraft II, what would it be?
37:09
Shout-outs
39:20
---
#5 James Kennigit Lampkin
Timestamps:
+ Show Spoiler +
00:30 Personal Background

02:00 First encounter with StarCraft

03:28 Comparing Brood War and Wings of Liberty Single Player

04:14 Starting off at Teamliquid and the path to becoming Marketing Manager

07:26 Main ways Pro Teams are funded at the moment

09:15 So you will focus on selling your own products – How come TL is always sold out of shirts?

10:30 The basic blue shirts – Will they ever come back?

11:24 Talking eSports future – Pay-Per-View (as seen in MLG Winter Arena) the way to go?

14:20 Implementation of a governing body like MLB, NFL etc. where the teams help fund the league rather than third party tournaments?

16:00 Steps to be taken to monetize eSports and what will the community have to expect?

18:00 eSports changing, does the community attitude need to change?

20:20 Official Teamliquid stand on this? (regarding the fact that it wasn't featured in the calendar)

22:55 The influence of Teamliquid (site, team, everything) on foreign eSports – Where would the scene be without Teamliquid?

24:28 Release of StarCraft II meant a massive increase in numbers and substantial growth for Teamliquid – Do you think Heart of the Swarm has the same potential?

25:33 How closely do you [Teamliquid] work together with Blizzard? (relating to the fact that Blizzard included community maps in the Season 7 Map Pool)

27:55 APRIL IS COMING! Brood War Pro's switching to StarCraft II

29:05 Is it going to change the game?

30:05 Do Korean teams have a problem with marketing to the foreign scene? (also regarding TL/OGS partnership)

32:22 Mechanics implemented like auto-mine and smart-cast – Have they significantly lowered the skill cap/skill gradient?

33:54 Favorite Brood War Player – Hoping for a switch to SCII?

34:18 Favorite StarCraft II Player

34:40 Kennigit's Intel Extreme Masters World Championship Predictions

40:30 Holding StarCraft tournaments at conventions – Do StarCraft II tournaments still need conventions (rather than being standalone events)?

42:38 How polished/professional does casting need to be? (in relation to the racism/sexism in casting thread)

45:22 Katu calling Dragon a stream cheater – Where is the line between goofy and unprofessional?

46:49 How much money is there really in StarCraft II? Why player salaries are not made public / Cash flow in the scene

49:49 Implementing new features on Teamliquid and thinking outside the box in eSports

52:35 Shout-outs

53:43 What can people do to help out the community?

EXTRA:
54:53 Jason "InsidiA" Pun – a 15 year old TL.net member who reached out to the community and does amazing designs and overlays (including the one for In The Spotlight)
---
Pholon


A huge shout-out and thank you goes to Noobity who provides the animations for these interviews without any charge and usually on short notice.


Edit: Added picture of motbob /// Added p4NDemik to the interview list