The finals are finally here! Since this ASL started back in December, there has been a lot of hype due to several factors such as the return of TBLS and former Brood War pros such as Rain and Soulkey who made their first offline debut in the post-kespa era. The hype hit quite a high note as FlaSh faced off against Jaedong in the second semifinal last Sunday infront of a full studio and an estimated viewer count of 200-300k! Though Jaedong was not in peak form due to returning much later than FlaSh, he was still a serious contender in their FvJ games as he took it to a deciding game 5.

Alas, FlaSh managed to take the deciding game but not before Jaedong made a proclaim to the BW community: the tyrant is back! If you would like more details, read the recaps written by c3rberUs. As it stands, FlaSh will be facing off against Sea in the finals. Many had anticipated that FlaSh will make the finals stage but Sea? Up against countless top protoss players such as Bisu, Best and Rain, Sea came out on top in the slimmest of margins at times. This series will prove to be interesting as both FlaSh and Sea are friends and have played each other countless times so mind games might be at work in their series.

So while you wait for the games which are due to start in , read on for a preview of FlaSh vs Sea from either perspective by FlaShFTW and BLinD-RawR then finish off by glancing at staff predictions to see who we believe will win!
by c3rberUs
by BLinD-RawR & FlaShFTW
Everything about ASL2
Second Semifinal:
FlaSh
<
Eye of the Storm
>
Jaedong
FlaSh
<
Circuit Breaker
>
Jaedong
FlaSh
<
Demian
>
Jaedong
FlaSh
<
Benzene
>
Jaedong
FlaSh
<
Eye of the Storm
>
Jaedong
Flash
advances to the finals!
It was some random downtime at work yesterday when I first realized how amazing it was that we've come to this point. Back around six years ago in 2010, I had just discovered TL due to SC2, and these two guys were blazing ahead and left everyone else in the dust. And then after two years, I'm sure everyone here knows how it went down. Things have changed for everybody else too, I'm sure. People grew older, got jobs, got married, got kids. Ex-pros too; they started singing, shaving brows and doing mokbangs. And yet for all the things that have changed, we are lucky enough to be enjoying a LeeSsang Rok, five years after people declared BW dead on the spot. But enough with this, I have a recap to tell.
Game 1: Eye of the Storm
Now, despite the excitement and anticipation surrounding this series, I actually went to check this just to see if the zerg player even got a chance against the terran player sporting that nice +80% winrate against everybody. So this game was a real eye-opener!
Jaedong was really sharp when he opened the game with 3-hatch before pool after realizing it was cross-positions. Real energy emanated from the crowd with all the "oooh"s and "aaah"s and that added hype as Jaedong revealed his cards to the spectator. He went 3-hatchery lurker and quietly brought them to special locations where he had placed overlords. The overlords were unsuspectingly placed early in the game but now it was clear that a simultaneous drop play on the main and natural bases was incoming! And that was when the game opened up.
IMO, this was the Tyrant's true return to BW.
FlaSh was badly beaten on the map and was on one mining base for what seemed like forever. He was set on the backfoot and had to climb out of the hole so he decided to delay the mech transition almost indefinitely and got a ton of dropships. The lategame opened up to a never-ending stream of drops. He had to buy some time to get an expo but it didn't happen. Everything was going well for Jaedong. He defended each and every drop beautifully and even had units to spare to kill FlaSh's expo attempt. And after that, a large lurker horde invaded a now resource-barren base and forced the GG.
Game 2: Circuit Breaker
It was another cross position game and FlaSh encountered another 3-hatch lurker build. He was more prepared this time as he scanned Jaedong's base at the right time and added a second bunker at his natural. He moved his forces out and was probably tricked by lurkers 'on-route' to his base where in fact, Jaedong had bypassed the main force and entered FlaSh's natural. With quick reflexes, FlaSh blocked the ramp with SCVs to prevent them from going up into his main. Now the lurkers are in a killing-zone surrounded by marines and bunkers. They were taken out one by one but then the scan ran out. Jaedong tried quickly to reinforce but he mismicro'd a bit and it failed horribly.
Between bunkers and a hard place.
FlaSh survived the trickery and was poised to direct his 5-barracks army at the zerg third base. Jaedong tried to delay but the sheer mass of bio was unstoppable. The MnM line caught three lurkers sent to hold the ramp and curiously, they ignored the troops and instead raced up the ramp. A single lurker outran everyone before it burrowed and started shooting. But of course, one lone lurker can't hold a force that size without swarm and that was the game.
Game 3: Demian
Here, FlaSh tried to some early game aggression that failed horribly thanks to a 2-kill Jaedrone. Otherwise, the game was a fairly standard 2-base 4-barracks terran versus 3-hatch muta game. As you people know, FlaSh loves turrets which made mutas relatively ineffective when it came to keeping him inside his base.
Jaedong then tried to be tricky here. He delayed his third expansion and then chose a peculiar spot to build it. The bio force roamed the map like a headless chicken for a while until they finally spotted the target. By the time FlaSh engaged, the hatchery was already up and, tanks and vessels were out in the map. The first few trips to the lost expansion resulted in the utter destruction of his troops. The delayed expansion meant Jaedong needed to hold until the income kicks in. Jaedong was living on sheer execution skills but as FlaSh kept upping the ante, the defences eventually collapsed and the expo fell. He had put the game out of reach for Jaedong who's only viable reply now was a Hanbang attack. It caused a lot more havoc than what was ideal for a won game but ultimately it was futile. Only one more game to go for God Young Ho.
FlaSh defending a last ditch counterattack
Game 4: Benzene
FlaSh rebounded well from the first game loss and now has Jaedong where he wants him. The Tyrant had other plans however. With his back behind the wall, he executed a build many protoss players would find really familiar -a hydra bust. The rarity of the build surprised even FlaSh. He scanned the zerg base, saw a hydra den and naturally expected lurkers. So he moved out to pressure only to meet one hydra too many outside his natural wall-in. Then the scramble began. He put up a bunker and pulled SCVs. The first wave got up the ramp and while he managed to get rid of them, they did some 'unhealable' damage which prevented him from supporting his wall. The next wave tore the wall down and he couldn't quite get any marines to a second bunker.
You can't spell Jaedong without god.
Jaedong rolled the dice and kept his finals aspiration alive for one more game!
Game 5: Eye of the Storm
The roflstomp I had expected had turned into a very real series that was filled with the highs of JD's relentless plays and the lows of seeing FlaSh's never-dimming five barracks. This game five was the complete opposite of BeSt vs Sea. Whereas they opted to go with cheese, FlaSh and Jaedong opted to play it straight and standard. Or that was what it looked like on the surface because Jaedong strangely planted a creep colony at his main base entrance then canceled it. What looked like another case of 5-barracks working its magic (yeah I'm still kinda salty) denying expos left and right was actually lost at the moment the creep colony was canceled as the Tyrant himself explained in a stream session after. He wanted FlaSh to attack his natural and force a base race but with his own main fortified. However, FlaSh scanned the area and avoided the trap.
Though the trap was foiled, what ultimately killed Jaedong here was his late lurker upgrade. FlaSh's five-barracks is arguably the strongest in the world and having no lurkers to defend a third base doesn't help you fight against it. However, a persistent Jaedong took another third base that he defended better with swarm and lurkers. Regardless, that couldn't stop FlaSh who stretched Jaedong's resources more with a crowning blow of a drop. Good game.
I've never seen FlaSh look this exhausted. As much as I like to say terran imba Mad props to the guy!
Your Grand Finals matchup is FlaSh vs Sea!
Return to his Throne
God sits upon his throne once more
The story is set. The spectators await in heavy anticipation for the event about to unfold. The tale of God himself, the Terminator, the Little Monster, the Ultimate Weapon. The curtains part and a scene is displayed before us…
Act I
The year is 2007.
Flash
began his journey as a lowly member of Pantech, struggling to make his name known, practicing each night until his eyelids could barely open. He fought diligently for his place on the Proleague roster, to become a consistent addition for the team. Before long, his perseverance began to pay off, as he was traded to then KTF Magicians where his first taste of success would be sought. He stormed his way to his first of many championships, knocking off
Stork
in the finals to capture the 2008 Bacchus OSL. However, the Little Monster would not taste success for a while as he faded into the background of the stage and the curtains closed…
Act II
FlaSh reappeared in 2009. His new found success catapulted back to where it all started, another OSL win over
Movie
in the 2009 Ever OSL. He would make the next 3 straight finals for both the MSL and the OSL, winning 5 titles during this stretch to give him both the Golden Badge and the Golden Mouse. He became the undisputed most dominant player in the history of Starcraft and awarded the nickname of God. However, another timely slump in addition with the rise of Starcraft 2 would signal another chapter in his life and the end of his Brood War career… or would it? Curtains.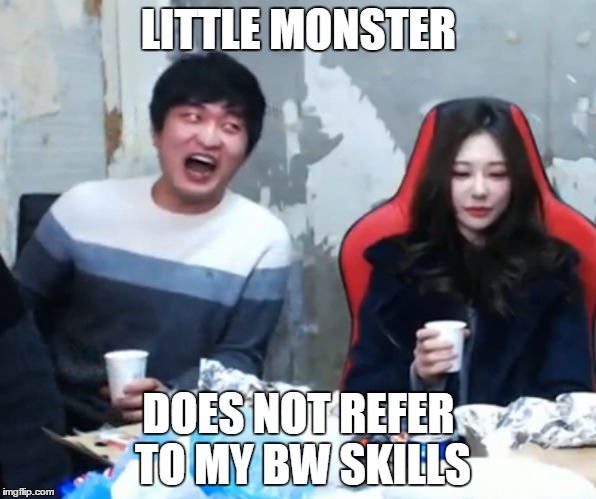 Act III
After a hiatus of 4 years, FlaSh returns to his rightful spot, once again in another finals. After working arduously after humiliation at the hands of AlphaGo,
Last
, FlaSh vowed to rise back to full power and take his seat atop the Starcraft Kingdom. Only two real tests stood between him and his chair. The first, locked him in a bloody confrontation with the
Tyrant
himself who summoned all his strength to weaken FlaSh. But FlaSh would prevail over him after a long and grueling fight to the death. Stepping over the Tyrant's lifeless body, FlaSh looked up to see his last challenge, the endless, torrential,
Sea
.
FlaSh has only played one TvT game in this ASL2 thus far, and it was a victory over his current opponent, Sea. However, his recent TvT games in other tournaments has shown that his old self is coming back. In the SBB Starleague, FlaSh 2-0d TvT specialist,
sKyHigh
, and in the Nal_Ra Starleague, defeated both Sea and
Mind
, 2-1 on his way to win the tournament. FlaSh's KeSPA era TvT was at an incredible 73.3% and his best matchup. He would go on crazy 17 and 14 game win streaks and stomp the competition without even breaking a sweat.
In terms of play style, FlaSh has shown every facet of TvT, ranging from aggressive early game tank pushes, mass vulture trades with intense micro and late game air transitions. He demonstrated against Sea in the ASL2 that he can also hold off attempted cheese with perfect reactions and intelligent decision making. FlaSh can determine the smallest of timing windows to strike and commits fully to his decisions, leaving nothing but destroyed tanks and vulture bikes in his wake. His air game has also improved significantly, ensuring that he controls the skies with his valkyries and wraiths. Slowly, FlaSh suffocates his opponents like a boa constrictor, pushing their tank lines back as he out-expands his opponents, forcing them to GG.
If there's one weakness that I've seen in his games, it is his defense against drop play where he hasn't reacted well to vulture or goliath drops into his mineral lines. Skyhigh showed this weakness in their games, but the rest of FlaSh's game was too strong for him to take advantage of a temporary weakness. Furthermore, FlaSh has shown in the past that he is a very predictable player, and Last in the last ASL abused it significantly. FlaSh's predictability has always been his Achilles' heel in Starcraft, and a player like Sea will be preparing intensely to find what makes FlaSh tick and find the one little gear in his play that can be abused. However, FlaSh has learned his lesson from his humiliation last season and will not make it so easy for his Terran counterpart to take advantage of his weaknesses.
Map Breakdown:
Demian
will be the repeat map and I'm looking forward to using the new map for some exciting TvTs. I feel like 3 player maps for TvT always end up giving us the highest quality and most entertaining games (think FlaSh vs Firebathero on Medusa). Drop and air play will definitely be in play on this map considering the last surface area of the mains and the susceptibility for drops to find holes in the defense. Besides the middle of the map, the sides of the map have a lot of chokes and bridges. Look for FlaSh to play aggressive in the early game to try to take control of the middle and force Sea behind the choke points, making pushing nearly impossible.
Benzene
is another great map for air play with the backdoor high ground and the side bases that are pretty open to drops. Mass vultures will be the opener for FlaSh on this map to try to sneak them around using the backdoors and open area in the middle of the map. FlaSh needs to defend well against the potential drop play, and I suspect that Sea might try to proxy his starport near the 12/6 base to shuttle units into FlaSh's base. Also, Benzene is a very good map for 14CC due to the long rush distance and narrow choke. If FlaSh is going to 14CC, it's going to be on this map.
Circuit Breaker
is a very good map for FlaSh as there are countless bases for his greedy expansion-style. We'll see him try to push aggressively in the early game with tanks again to gain the upperhand while expanding behind the push. Drops around the natural base will be something to look for, so FlaSh should have a few turrets back there or an early wraith to ward away drops. With the center of the map so wide open, it's going to come down to who can find the better spots to attack from, and FlaSh has that knowledge in spades.
Eye of the Storm
will be the final map. The center is fairly open except for some bridges that lead to the far outer circle of the map. This will be a good test for FlaSh to properly maneuver his units around the center and edges to ensure that Sea does not get the upperhand in battles. Drops are once again going to play a huge role with the main walls being so thin to ferry troops up. With this map being so low in bases, FlaSh might choose to want to end this game earlier. Otherwise, he'll need to force the issue to ensure that he can grab an extra base if the map gets split.
I know this ain't Polaris Rhapsody, but if you need those turrets FlaSh, you build them
FlaSh's Keys to Victory:
a) Defend against prevalent drop play better, build turrets if need be
b) Take control of the skies, 2 port wraith/valk tech switch in the mid-game could prove to be your biggest strength
c) Proper tank pushes and favorable trades for map control
d) Push aggressively in the early game and force Sea on the backfoot. Dictate the pace of the game.
Sea Side Story
Last time I spoke about Sea, I said he would choke like he always has or rise to the occasion. 11 years since his progaming debut with so many near misses, he has finally made it to the finals of an offline tournament and all he has to do is win ... against Flash!
Come so far, after so long
Mentally, Sea is in the best shape he could ever be in. He has broken his previous barriers and beaten players who many have claimed to have the upper hand against him like Bisu (3-0, mind you) and BeSt (who everyone was sure would actually make it to the finals at that point). Now he has to face Flash, one of the only two Terrans who can actually match up to him in the matchup in terms of skill (the other being Last). Considering the overwhelming wave of momentum that he has been riding on to get to this stage from the last two rounds, this starcraft monster is as ready as he'll ever be!
Begin with a Suplex into a Body Slam..
Sea's advantage is his optimal tank-line setup and better air game than Flash. He has, on more occasions, in the matchup won straight up because he had better wraith production and numbers than his opponent. This allowed him to hold onto air control and therefore, map control. This is similar to what Sea did in his ASL1 Ro16 game against Flash on Taebaek mountains where he killed FlaSh's air army and forced Flash into a situation he didn't want to be in. FlaSh eventually lost that game.
Sea's weakness is his vulture vs vulture wars or generally dealing with vultures on the map. His reaction time is exceptionally sloppy against them losing entire mineral lines. This makes it doubly annoying that Flash has become much better at this than he used to be and for every small victory Flash gets, he takes an expansion for it. Essentially taking over the map before Sea can retaliate.
Map Breakdown:
Demian (Set 1 & 5): Demian is the repeat map of the finals. The structure of its mains indicate that drop play is the more likely course of the game. There will be war in the middle of the map. Sea would want to take the middle of the map with his ground army and wraiths before Flash, which is dangerous as this would open him up for drops in his own bases. However, this gives him enough breathing room to take more bases than Flash and try to starve him out through lack of other bases to take.
Benzene (Set 2): Benzene is either going to make for a really short action packed game or a long and slow building tension game. I fully expect Sea to go for a factory at the 12/6 and float it into Flash's main and try to sneak vultures from the back. It is risky but considering that Flash's current day starsense isn't as insane as it was, it is possible that he won't scout it in time. Should this go for a longer game, it will be a battle for air superiority.
Circuit Breaker (Set 3): Grab your popcorn kids because here's where the standard TvT game should come in. Circuit Breaker is where Sea would want to go for a stronger factory opening to get more tanks out and try to get a fast contain on Flash. Impeding him on this map as quickly as possible is key for Sea as well as expanding as soon as he possibly can. As long as Sea can keep Flash down and get his bases up as soon as possible, he should take this set.
Eye Of The Storm (Set 4): Another map where a split map situation seems extremely likely. Either player might want to end the game early but the player that will try to play for the longer game will be the one to take it. Drop play will be more likely than wraiths but it doesn't mean we won't see them. The ground armies outside of drops will stick to the middle of the map with little movement heading into the late game.
Sea's Keys To Victory:
a) Control the Air = Control the Game
b) Keep an eye out for vulture runbys; keeping mineral lines secure means staying on even foot when behind and a lot more ahead when ahead.
c) More decisive with army movement. Sea tends to get complacent after his initial tank placement is ready and usually hesitates before making a push from any position
d) Don't let Flash take control of the pace of the game.
FlaSh vs
Sea
c3rberUs (FlaSh 3-0)
BigFan (Sea 3-2)
FlaShFTW (FlaSh 3-1)
mustaju (Sea 3-2)
v1 (Sea 3-2)
BLinD-RawR (FlaSh 3-2)
Bisudagger (FlaSh 3-1)

Writers: c3rberUs, FlaShFTW, BLinD-RawR, BigFan
Graphics: v1
Editors: BigFan
Photo Credits: Afreeca, Liquipedia, DailyEsports, Blizzard, Dale Kunkel