ASL4 has just started and we're already halfway through the Ro24. There have been some entertaining and close games played so far although the new maps have failed to deliver much on either front resulting in some really badly executed strategies at times. We've already experienced some upsets, including the early exit of alphago, Last after being defeated by Stork in the deciding match on Fighting Spirit.

Notables names that have made the cut and will appear in the upcoming group selection ceremony are Killer, Larva, EffOrt, Mind (who fought one hell of a battle against Rush) and sSak. For more details, please read our Group A, B and C recaps by FlaShFTW, c3rberUs and Ty2 respectively.

The upcoming groups feature a plethora of well-liked players including Jaedong and Hiya in Group D, Rain and Best in group E and Firebathero and Shuttle in group F. BLinD-RawR, newest recruit ZiggyPG and FlaShFTW took the liberty of previewing groups D, E and F respectively so make sure to give them a quick read to see who we think will advance to the Ro16. Now, make sure to grab that popcorn and tune into Group E featuring Best, Ample, Mong and Rain set to start in !
Making the Most of the Situation
So the ASL4 came and rolled in Sunday morning (or night, depending on where you were). And with a packed audience, the players gave us… well… an interesting day of games. To give you the short version, macro hydra bust vs 1 cannon, failed proxy rax into failed wall into gg, ZvZ bo win, failed recall into easy 2/2 timing, and then a pretty good game. Here's the long version:
Killer
and
Sky
, both newcomers to the ASL, started us off at our first look at offline
Gold Rush
play. And while a lot of us were excited for some crazy strats on this map, Sky decided to make only one cannon while Killer went standard 6 hatch hydra into make hydras into kill you. Onto game 2.
Sky is not a happy Protoss
Game 2 was between one of the most hyped up players in the world,
Larva
, and a beast of a TvZer,
Light
. I've seen some of Light's games of Gold Rush on stream and he really knows how to use SK Terran dropships to his fullest advantage. Yet instead, we saw him go 8 rax inside of Larva's base by scouting along the rim of the map until he saw creep. Larva scouted the rax, then Light failed to wall off. The game lasted a little over 3 minutes.
You'd think as a Terran, one of the first things you practice is your wall-ins on a new map...
ZvZ on
Crossing Field
to get us launched into the Winner's match where Killer won luck of the builds, going 12 hatch vs Larva's 12 pool gas. His earlier lair tech didn't amount to much as the rush distances on this map are quite long but he did manage to sneak 4 scourge over to Killer's base, killing one muta and damaging another. Then the first muta fight happens and Killer expertly micros away from Larva's mini scourge trap, killing pretty much all of them with one swipe.
Killer (brown) killing 3 scourge with one volley, well played.
Even without the well microed mutas, Killer was still probably well ahead, as he completely routed the rest of Larva's mutas due to his early economic lead from his 12 hatch. Larva taps out and we're headed to the Loser's bracket.
TvP on Crossing Field, expertly analyzed by Legionnaire, pretty much summed it up. 3 free bases for a Terran means very strong and fast 2/1 timing attacks vs Protoss, or in Light's case, he went for double armories immediately, meaning his push was a 2/2 timing. Something that might have been overlooked from everyone was that the backdoor natural is so small and also on the low ground, meaning any recalls back there are going to be sent to the tank meatgrinder from the high ground. And Sky played right into that, going for 2 base arbiters and using his first recall at the safe natural.
Getting up to that tank might be impossible.
Having his first recall not nearly do enough, Sky goes back in for a second recall into the main while Light pushes across the map with 2/2 finished. Sadly, the recall was slightly trapped behind supply depots, and while he managed to temporarily supply block Light, Light only needed to use the units he re-macroed from his factories to clean up the remaining units. On the other side of the map, Light had entrenched himself in front of Sky's natural and cleaned up the outer bases at the 5 and 7 and also killed Sky's forward natural, leaving his Protoss opponent gasping on 2 bases.
When your pylon wall work's against you.
While Sky finally managed to clean up the first army of Light's, he just didn't have the economy to keep up with Light's follow up attack and was forced to tap out.
The final game was easily the game of the night, and if you've seen any of Larva's fantastic ZvT on his stream, you'll know how good his defensive capabilities are. Light opened with fast +1, but instead of going for the typical 5 rax, he went for 4 rax with a faster factory, trying to get the best of both worlds by having a reasonable amount of mnm on the map as well as teching faster to starport. Larva went for his classic delayed-3rd in favor of more muta/ling to try to catch the Terran army in the middle of the map. Light moved out aggressively and Larva did a fairly good job of keeping the reinforcement marines separated until...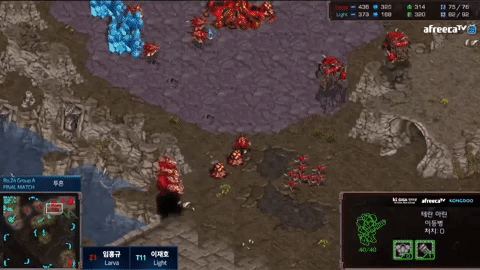 Light doesn't manage to break before the lurkers and Larva holds
Larva manages to hold on by the skin of his teeth but crucially Light didn't manage to bring in his reinforcements since they were aggroed onto some back lings from Larva. And thus, Larva manages to hold the first attack and successfully establish his 3rd gas. Then a sick stopped lurker from him in the middle of the map neutered the rest of Light's army and Larva soared ahead, even deflecting another drop from Light. From there, standard drop defense from Larva was really all he needed to push his lead, even sneaking a few lings into Light's 3rd base and killing all the SCVs. The nail in the coffin was when he landed the money plague on Light's entire army, causing the Terran to GG shortly after.
WAH PLAGUUUUU
And with that,
Killer
and
Larva
advanced to the Round of 16!
Commander... and sSak
And so it was the second day of the Round of 24 and I tuned in to the ASL stream of my favorite player, Bisu. While I couldn't understand a word he said, it didn't take me long to sober from my work-mode mind that the night's group was a special one, because I'm going to watch my favorite player cast the games of my favorite player, Stork. But before we get to the obviously good part, let us start with the appetizer;
Last
vs
MisO
on
Gold Rush
.
The early game was two scenes of futility. Last spawned at five and played the eight-barracks card but managed to net four drone kills, which is a bit painful but not game ending. On the other hand, MisO's response was in my opinion one of the worst. He took a dozen zerglings and sent them against the terran wall and got obliterated. This disregard for zergling lives continued in another engagement which forced him to sunken up his natural entrance. MisO then went for a 3-base 3-hatcheries scheme while bringing up mutalisks. Last however was well prepared. Turrets were planted pretty early and then he added valkyries as the mutalisk ball roamed helplessly around the terran natural. Last just played it solidly. After adding a couple of tanks, he walked with near-impunity on to MisO's natural. It was sunken'd up, but with no units other than mutalisks, Last tore it down methodically and it was on to Game 2.
And now off we go to the good part. If you look at streamed games only, this will look like a bad matchup to watch. But to heck with that, we have
sSak
here who seemingly proves staff wrong every time we make a power rank and
the ancient WoW player
Stork
, who I'll fanboy as he makes his way through this tournament. Stork was visionary enough to try something different in this quirky map. He appeared at twelve o'clock and went for a 1-base 4-gateway build with three of the four built on the semi-island expo at three, adjacent to sSak's main at five. To not raise much suspicion, Stork opened up zealot first and started making marines dance around. But then, sSak's scouting prowess (SCV nonchalantly past the guard dragoon) revealed everything and rendered any timing inaccessible. Thus Stork double expanded towards the now well guarded three o'clock expo.
I don't know Stork planned out the part where the dragoons would try to squeeze through.
Despite the apparent failure of his plans, Stork's later economy was offset by the effective early game aggression which shut down mining for some time until a tank could recover the natural. After a fruitless drop play that ended in interception by a goon congo line, it seemed that sSak was on the way out. But all of a sudden, sSak spotted an opening. Stork had started claiming the eleven o'clock expo and would be quite vulnerable. So on 1-0 upgrades, he pushed his tanks out to meet the Protoss army in the center. Fortunately for him, the first crucial engagement happened without speedlots and he was able to advance all the way to the Protoss natural. Stork tried valiantly to hold off, sending wave after wave of freshly arrived gateway units into the mouth of the lion but they were all gobbled up. It was a frustrating loss but Stork still had a chance.
The Winners' Match on
Crossing Field
was a clash between SSL10 finalists, sSak and Last and it continued the trend of Last's struggle against sSak. The start was almost mirror-like builds except Last opted to take the front expo while sSak took the back expo. Then the builds diverged further when Last teched to wraiths. A key point in the game happened when sSak's vultures destroyed Last's vulture-tank squad in a one-sided stomp. This allowed sSak to set the pace even as Last sent his first two wraiths to return the favor. After that, sSak turned to expanding outward, taking two expos in quick succession, overtaking Last in the economic battle. Last needed to play a game of catch up but was shockingly never allowed one. After tank lines manifested in their usual habitats in the pathways in the middle of the map, sSak proceeded to literally stun his opponent by bringing over a doom-drop sized fleet of dropships and landed everything on the top of Last's main base!
It seems the world is out to cheese MisO and to be fair, MisO did himself good when he scouted Stork's proxy two gateway quite early. And then something snapped in MisO's brain as if he has finally accepted his fate and he proceeded to cheese back.
Stork's Protoss-style cheddar
MisO's stinky cheese
However, as you can see in the picture, Stork's gang of probes had the hatchery surrounded and MisO was forced to cancel it anyway. Then this comical game got even more comical as MisO desperately tried to dislodge the zealot ramp-block Stork had set up. After forcing a lot of exercise, Stork finally moved up the ramp and allowed the hapless zerglings to get through. MisO gladly took the opportunity as if one sunken and drones can be relied upon to stop ten zealots. To add insult to injury, the zergling counter was completely stopped by a cannon, a school of probes and a pair of zealots.
With that taken care of, Stork moved on to face Last on
Fighting Spirit
, where Last had made his nest and laid eggs on anyone who dared enter. Personally, I was shaking as I watched the laggy stream of this game. I wanted Stork to win so much but this is Last we're talking about here. It was at best unrealistic I thought. But for Stork's fans and sports fans in general, there is a reason the game is played no matter how disheartening the odds look to be.
Stork, our hero started at the five o'clock position while Last, the enemy of all fans who want Stork to advance appeared at the seven o'clock position. It was a standard game; Stork opened up with gate core expo while Last opted for a barracks expand. In deciding to take a quick third, Stork teched to reavers to hope that it will buy him time.
That reaver drop didn't go well at all
After cleaning up that drop, Last proceeded to push behind his three base economy. It was a confident push. He had no upgrades whatsoever but he knew that Stork was a bit vulnerable after having just taken his fourth base at the one o'clock position. The mech blob entered the middle and bullied its way to the Protoss natural and took out its nexus. And it was not finished with the remnants making their way to the third at three o'clock to take out its nexus as well. It was all grim and dark for our hero and in the middle of the lag, I alt-tabbed to read something else to escape the sting of the "GEEEGEEEEE". It took a few minutes during the live stream but to my surprise, I heard game sounds which meant the game was still ongoing!
It turned out, that Stork was able to clean up the whole army with zealot and dark templar drops, assisted by dragoons blocking any reinforcements from even getting out of the Terran natural. Stork knew that replacing all those tanks would take a long time and so he triple expanded, collected his forces and attacked Last's bridge. This would be a facepalm move normally but Stork seems to have that PvT magic and timed the attack just before Last got 2-1 upgrades.
Even Jaedong was surprised at the result
The trade gave our hero more room to breathe and time to plan out the next engagement. Last was trying to take a fourth to prevent starvation. He chose the ten o'clock natural which naturally set the place for the next engagement. With the power of a good spread, money stasis and money storms, Last's now 2-1 mech army was squashed almost completely. At this point, Last was staring at a 40-supply deficit and a complete 180 degree turn from the situation earlier. Last tried to hold on despite the advantage the Commander had but the blows were just too severe and his last army was cleaned up defending the new fourth base. Good Game.
Jaedong was calling it GG right here
He's not going to lose his viewers yet! SONG BYUNG GU!
Final Standings:
Last
< Gold Rush >
MisO
sSak
< Gold Rush >
Stork
Last < Crossing Field >
sSak
MisO < Crossing Field >
Stork
Last < Fighting Spirit >
Stork
sSak
and
Stork
advanced to Starleague proper!
Putting Forth EffOrt
Two top tier and lower tier pros stepped onto the stage on Tuesday, a dual contrast.
EffOrt
with his boy shorts stepped to the forefront wanting to live up to his name as a top Zerg. The complacent genius,
Mind
, stands ready with his calculating eyes, readjusting his glasses. The up and comer,
Rush
, a charismatic talent threatens to upset the hierarchy. And then there's
Lazy
.
In the pregame interviews, they awkwardly talked about each other's skill levels in front of one another. Effort, whimsical and a touch lively on stream made surprisingly modest comments about his admittedly weaker opponent, Lazy. "Nervous" was the word he used to describe his feelings playing against a "tough Protoss." What a troll. Lazy more than understood the truth of the matter, approaching the tournament lightheartedly. He unabashedly said with humor that he and Rush would likely meet in the loser's match to the amusement of the others. Mind was the opposite, seeking to redeem himself from an early exit in the previous season. Rush, the most cheerfully playful, replied that the outcome depends on his dinner. How appetizing.
Festivities started with Effort vs. Lazy on
Gold Rush
. Effort spawns in the 5 o'clock while Lazy spawns in the 12 o'clock position. Lazy opens with a 1 gate, fast expanding to the backdoor with a reaver/dragoon followup. Effort opts for a 3 hatch lair into 5 hatch hydra, but makes quick overlord speed and a hydra den instead of a spire. A decisive scouting overlord reveals Lazy's hand as Effort wards off any reaver harass. Soon after, Lazy's all-or-nothing reaver dragoon push was set into play. Meanwhile, Effort launches a decisive 8 ling drop which singlehandedly shuts down Lazy's expansion mining.
Lazy's last hope is the climactic battle waging on the other end of the map. However, the battle falls pitifully far from a struggle, more reminiscent of a submissive plea of mercy.
In the second game, Mind vs. Rush, Mind spawns in the 5 o'clock and Rush spawns in the 9 o'clock. Mind's lack of grace in TvT compared to titans
Last
and
Flash
made for a dangerously close match against solid rookie Rush. Rush opened for 1 rax FE into 2 starport wraith while Mind opened 1 factory FE.
The action began subtly with Rush doing minor wraith harass. Using the map control granted by the wraiths, he takes a quick third. Seeking to gain an advantage from his larger ground army, Mind makes a sudden frontal push that was calmly held off by Rush. Mind keeping up the aggression launches his next attack by air, a dreadful dropship trifecta. Once again, however, Rush defends swiftly yet another menacing attack. The time ripe for retaliation, Rush's catastrophic counter drop at Mind's natural goes unanswered. Mind's base and army reduced to scrap were swept into the wind, defeat a certainty as Rush took the game.
In the third game, on the macro heavy
Crossing Field
, Effort spawns to the right and Rush to the left. EffOrt, the mastermind not afraid to experiment goes for an unorthodox 3 Hatch Lurker while Rush goes +1 4 Rax. A serene calm envelops the battlefield before the beginning flurries of a storm are swept up by Effort. He sets his diabolical plan into motion. Lurking from the shadows appears a backstab of seemingly harmless lings. In reality, EffOrt bought critical time for his lurkers to creep insidiously into position. He even sacrifices an overlord to delay the marines' advance by a few precious seconds. The trap was set. And flung!
...but with disappointment. Nevertheless, EffOrt begins riding his newfound advantage to imminent victory and whips Rush from the coat tails he desperately clings onto. Barely having a foothold, Rush mounts all of his forces to break the Lurker contain. The single climactic move that could alone turn the tables...
fails spectacularly...
Rush was in an already dire situation made even crummier. I don't think things can get worse.
and then they do.
Needless to say, EffOrt won that game hard.
EffOrt advancing 2-0, the remaining players were left to grovel for the remaining spot. For the Loser's Match, Mind spawns on the right versus Lazy on the left. Both opt for greedy expansion first plays.
Suddenly, the game swings into high gear by Lazy's hidden 2 base carrier tech, unknown to Mind. Luckily, Mind scans in time to prepare plenty of goliaths and mount his own assault. His army advances to become a deeply lodged splinter in Lazy's 4th base. Indecisive, Lazy moves for a backstab, but all for naught as he confusingly retreats. Lazy's poorly taken engagements and shaky skirmishes render him a sitting duck. A ground army thrown away multiple times over, a vastly inferior economy, and sloppy carrier micro lead to his eventual demise.
Finally, the last match that took place decided who of either Rush or Mind would join EffOrt in the round of 16. On the classic
Fighting Spirit
, Mind spawns in the bottom right while Rush spawns in the bottom left. Both open with 1 fac FE, but Mind places his CC on the high ground. With no need to secure his natural with vultures, he opts for earlier tanks.
Starting the game with a bang, an early push destroys several of Rush's vultures and threatens the mineral line. Amid the chaos, Rush sneaks a vulture past to lay down mines to cut off reinforcements. A constant power struggle to take map control results in tense skirmishes and fields of spider mines. Mind successfully brings the trench line of tanks closer to Rush.
Next, Rush launches a new offensive, made possible by his surprise early wraith transition. Raining hell from the skies, Mind's siege tank line is left exposed. A once impregnable defense quickly unravels as Rush wastes no time to advance his own tank line. The ensuing battle leaves no resounding victor as both are even, with Rush gaining only an inch of ground. Rush outpacing Mind ever so slightly has a faster 4th and 5th base.
Later, the defensive lines further solidify as the battle quickly turns to the air. Mind contests air superiority destroying Rush's ragtag wraiths with his own fleet. Soon after, a deadly drop from Mind at the 12 o'clock flings the game into further chaos.
Rush springs to action, launching a counter offensive to take advantage of the thin tank line. He makes a soft dent in territory, but loses the 12 o'clock. In a second attack, he drops Mind's top right natural base.
The battle rages on with brief skirmishing to stabilize the northern half of the trench line. Suddenly, Rush does a combined ground and drop attack that is held off by Mind. Both players make moves in the same fashion against each other in a tug of war. Mind carelessly loses several dropships to goliaths, giving up on recreating them. Little ground is gained as both refuse to budge.
Finally, Rush makes leeway with a risky drop deep into Mind's main base. Several supply depots are destroyed and Mind's fledgling reinforcements fall. Rush gains a momentous advantage.
Seeking to replicate his success, another base drop on Mind's other corner base lands. Mind's relief forces awkwardly crawl up, dying in the first wave, but eventually clean up.
The next major movement of the game is orchestrated by Rush. Charging into the north, an awkward assault by Rush leaves both with heavy losses and no significant ground gained. Rush, although having the supply advantage has most of his supply in dropships. As resources dwindle, the dropships' resourcefulness plummets.
After more skirmishing and positioning, Mind's ace in the hole, his battlecruisers slowly pick off Rush. In a game of cost efficiency, Mind is gaining an encroaching lead.
Rush loses the center base eventually. In an explosive swan song, the last of Rush's units evaporate along with his ticket to the round of 16. A game of truly epic proportions finally concludes along with group C.
EffOrt
and
Mind
advance to the Ro16!
Group D for Delayed
Group D which has been moved to September 20th due to issues in the Afreeca Studio features
Jaedong
,
HiyA
,
Mini
and
Sharp
. So, lets see what to expect from a group of OZ team kills, protoss shenanigans and some really sharp plays.
Jaedong - The Tyrant in question
Its hard to say how far anyone can see Jaedong going in this ASL. Watching him on stream is equal part stunning and frustrating with him clinching some great wins amidst some very disheartening losses. That's on top of him being really good but having the lowest win percentage in sponmatches among his other high level zerg peers. However, when it comes to this group, Jaedong should find himself at a very clear advantage and should win when he goes up against his former teammate Hiya due to Hiya's form. Furthermore, Gold Rush is still looking pretty good for zergs which leaves him to more likely face Mini in the winner's game who looks to be the only one who can pose a challenge to Jaedong this group. Jaedong has been performing well on Crossing Field on stream and against protoss in general leaving him to be the first to advance from the group.
Mini - Absolute Madman
Mini is an oddity among protoss players boasting a better PvZ than his PvT mostly for his "unorthodox plays" as quoted from Shuttle against terran that leads to most of his losses. But, he has been that way since his KeSPA days choosing to cheese or disrupt his opponent as hard as possible to throw them off their builds and secure wins that way instead of playing a solid game since macro is one of his biggest weakness. If he could overcome this, he would become one of the best protoss player out there. Opening up against Sharp on Gold Rush, Mini would likely make 3 pylons in Sharp's mineral lines then move to quick shuttle reaver and end the game with a zealot goon push with reaver drop in the back. Likely to lose to Jaedong because he doesn't know how to deal with fast 3 base economy on Crossing Fields then win in the final game.
Sharp - Become Blunt
Sharp has had no real tournament showing since he dropped out of ASL2 and even failed to qualify into ASL3, however, it's still an improvement that he did claw back into this season. However, this doesn't compare to ASL1 where he peaked in... well TvT. His bracket luck always handed him TvTs which was his best matchup and now in this group, he's left with only one possible TvT against Hiya. It's going to be hard to see him make it through, although this could be the beginning of an improved resurgence. Just very unlikely.
HiyA - Fishiking 2: Electric Boogaloo
From doing a regular job to making a return to streaming BW again, HiyA has been away since February where he competed in the HoSic BJ Starleague season 2. Expect a lot of ring rust on HiyA after not being in an offline tournament since the VANT Starleague back in late 2015. Having to go up against his former teammate Jaedong, he is not likely to come out on top and then he's probably going to go up against Sharp in the loser's game who has the better TvT. It looks like a quick exit for magikarp who is probably just going to use splash. Or maybe, he'll just evolve and kill us all. But I wouldn't bet on it.
Predictions:
HiyA
<
Gold Rush
>
Jaedong
Mini
<
Gold Rush
>
Sharp
Jaedong
<
Crossing Field
>
Mini
HiyA
<
Crossing Field
>
Sharp
Mini
<
Fighting Spirit
>
Sharp
Jaedong
and
Mini
to advance to the Ro16!
A Rough Time for Terrans
The group kicks off with two TvPs on
Gold Rush
-
Mong
facing
Rain
,
Best
taking on
Ample
. An unconventional three player battleground introducing an unorthodox set of map mechanics might bring a quick end to the Terran competitors in their opening matches. Taking a third gas geyser on Gold Rush requires spot on map awareness and spreading oneself too thinly is easily punishable by means of shuttle harassment or even recalls; tactics likely to be exploited by the Protoss.
Both Best and Rain are known for their exceptional PvT, and shouldn't have to sweat it too much, at least on paper. Their opponents, though not too shabby themselves in terms of overall skill, haven't had the same results as their Protoss rivals. Mong has been an everlasting presence in the scene since the early days of the Sonic Starleague. Being part of the backbone of the scene in recent years, he's so far competed in every single tournament of the ASL series, going all the way back to 2015 and the HungryAPP Starzleague with Kongdoo. He's the kind of player you expect to qualify for any given tournament but, anything after that is a bonus.
Having said that, one mustn't forget Mong topped his Round of 16 group in ASL3, showing a decisive approach to TvP and actually beating Best. Mong definitely has a chance to upset again. I doubt he'll manage to surprise Rain with anything though, as the latter knows how to force a long, drawn-out macro game. And that, on a map like Gold Rush, might be deadly for the Terran.
That should likewise be the case in the other TvP of the group, with Best likely to cruise through the game against Ample on auto-pilot. The newcomer (was active during the SRT days) got into ASL4 through a relatively easy qualifier group, with his toughest opponents in Movie and Action. I'd say he's in for a reality check. I doubt the Terran will find a way past either Best or Rain. He might have a shot against Mong in a TvT. That is most likely going to be the losers' match of the group. But that's about it.
That probably leaves us with a PvP between the two former SK Telecom teammates as the highlight of the evening. Taking first place is a much needed confidence boost, with three TBLS members already in the Round of 16 and Jaedong most likely about to top his group on Monday. The last time Best and Rain faced off on TV was in April, when the former assumed a defensive stance and opted for a quick observer build that eventually put him behind macro-wise, as Rain had gone for a quick nexus after his core.
More money, more units; simple math.
Hopefully, both players are taking the necessary precautions not to fall victim to unfounded fears and have prepared appropriate ways of approaching this particular matchup, as I'm sure they're aware of how likely it is to take place. The fact that the winners' match will take place on a brand new map might introduce an air of volatility into the equation, and, should they indeed face off on
Crossing Field
, would make this a must-watch for anyone.
If my initial predictions prove to be correct, then a TvT between Mong and Ample on Crossing Field should be bound to follow. Given the scarcity of Ample's professional replays, I believe the correct approach for Mong might be to go for a Factory FE or 14CC and force out a macro game, where, being the more seasoned player, he should have an easy time closing out the match. The layout of Crossing Field, coupled with a clearly defined direction in expanding beyond the three initial bases, should likewise rule out the possibility of Mong getting caught off guard by a massive drop behind the frontline. Ample's chances of taking this game lie in the apparent lack of matches Mong might have used to prepare for the potential TvT. Nevertheless, should Ample fail to secure an advantage in the early to mid-game, Mong will have the game in the bag.
If my skills as a clairvoyant prove flawless yet again, as they have on various occasions in the past, then the final confrontation of the group will be a rematch between Rain and Mong. This time, a map both players are undoubtedly more familiar with.
Fighting Spirit
should be the battleground that brings us the most polished and refined game of the evening. Though Rain's style is centered around solid, defensive play and safe macro openings, allowing Mong to expand freely without exerting much pressure might prove fatal for the Protoss. But as long as he doesn't fall in the trap of complacency I'd say Rain's chances of advancing in second place are still not too shabby.
Predictions:
Best
<
Gold Rush
>
Ample
Mong
<
Gold Rush
>
Rain
Best
<
Crossing Field
>
Rain
Mong
<
Crossing Field
>
Ample
Rain
<
Fighting Spirit
>
Mong
Best
and
Rain
to advance to the Ro16!
Hero Hero on the Wall
Wait, I messed that one up. But anyways, after I previewed my first group with an exceptional 5/5, why not do the same for this group shall we? Two
herO
s (one just happens to be a
firebathero
) with two decent Protoss in the group in
Snow
and
Shuttle
round out our ASL4 Round of 24. With FBH back in action, I'm ready to see some epic dropship shenanigans especially on our maps… Though that being said, we haven't really had many interesting games on
Gold Rush
yet (ignore the Larva vs Light game please). Snow is surely to exhibit his amazing reaver/carrier build should he face off against a Terran on either of the two new maps. Let's get into it!
Game 1: Shuttle < Gold Rush > Firebathero
I haven't really known FBH to do weird wraith strategies on maps, so I think I can rule out one possible build. His TvP has historically been his worst matchup, only having a measly 41% in his KeSPA career and having had some of the best in-game ceremonies pulled on him (Much Pylon Heart and Bisu scouts). Shuttle will live and die by his name sake, going reavers on this map… maybe into carriers? After all, Gold Rush is a pretty good carrier map with all the ridges and pseudo-island bases. While Shuttle has since fallen from his perch after winning the first ASL, I think his mediocrity will be able to defeat FBH's worst matchup.
Shuttle > Firebathero
Game 2: hero < Gold Rush > Snow
If you had asked me who I thought would win on this map a year or two ago, I would snap answer hero. But ever since his amazing year in 2015, hero has been on a free fall to the bottom. While still good enough to make it through qualifiers and reasonable to make it to the Round of 16, his chances of making it past there are getting slimmer by the month. That being said, Snow's absolute kryptonite is his PvZ. While the rest of his stellar matchups are sitting at over 60%, his vZ is a paltry 36% and he is lifetime 1-7 against hero. We've seen his game against Shine on Outsider in the last ASL where he couldn't break through Shine's bases, and his corsair control isn't the greatest which is definitely needed on a map like Gold Rush. I believe hero can pull this one off, and his traditional stay on lair tech strategy might work on a map like Gold Rush with continuous hydra and lurker drops everywhere.
Hero > Snow
Winner's match: Shuttle <
Crossing Field
> hero
Another PvZ on this map, and Shuttle's PvZ is also fairly mediocre. But vs hero, he doesn't have a bad record, with the head to head being 19-22 in favor of hero. Crossing Field has seemed to favor Protoss slightly, with the easy access to a 3rd gas that will allow the Protoss to ramp up their tech and have more options open to them. The farther bases from the initial 3 will bode poorly for hero though, as he'll have to expand into the clutches of Shuttle, who's shown good use of his shuttles lately. Shuttle will want this game to go on longer where Protoss will have the advantage in the later portions of the game.
Shuttle > Hero
Loser's Match: Firebathero < Crossing Field > Snow
Well, there's really not much to say. Snow is going for his typical reaver/carrier build and you can quote me on that, it's like a 95% chance. Firebathero might try to do some sneaky cheese like proxy 8 rax into bunker rush, as Snow may opt for the 12 nex on such a long rush distance map, not expecting the bunker rush. But otherwise, I don't see how FBH is supposed to win this game, as it's an expert PvTer vs a weak TvPer.
Snow > Firebathero
Final Match: hero <
Fighting Spirit
> Snow
I don't think my analysis will make much of a difference compared to their first game in this group. Hero has been slumping, but it's more than enough to beat Snow's weak PvZ and a standard map only accentuates that. Snow will be praying for hero to win his Winner's match, because if it's Snow vs Shuttle, I would give the match to Snow. Otherwise, until Snow's PvZ can improve in the next few days, I don't see him moving out of this group to hero's hard lair style.
Hero > Snow
Shuttle
and
hero
to advance to the Ro16!
---