Felt bored so I decided to translate a morrow interview from rakaka.se. It consists of 20 user questions and he talks a lot about balance. His answers are very well thought out and elaborate as per usual.

+ Show Spoiler [Original] +

1.Hejsan, I state of the game #37 blev det debatt mellan Idra o Day9 angående zergs early game balans. Vad tycker du om zerg just nu och vad skulle du vilja ändra på? /VenaGe

Jag tycker zerg är ganska balanserad ras just nu. Det brukade vara ganska självklart vad som var för bra för några månader sen men nu börjar det bli lite svårare. Jag skulle nog säjga att zvp favoriserar protoss litegranna men som sagt så spelar jag med en ny zerg stil som går väldigt bra just nu. Det går antagligen bra som det går för protoss spelare inte lärt sig hantera att stoppa det teoretiskt sätt eller vara tillräckligt snabba för att stoppa det praktiskt sätt.

Zvt tycker jag kan vara lite obekvämt i early game för i vissa positioner på vissa maps så kan det vara svårt att scouta vad terran gör och då får man mer eller mindre gissa vad han gör vilket kan leda till att man faller efter emot en macro build av terran eller åker ut på en early game cheese.
Men oftast så brukar jag kunna lista ut vad terran håller på med och då får jag tillgång till att svara till han korrekt och när det blir macro game känner jag som att jag har fördelen men det vet jag inte ifall det är pga obalans eller ifall att det bara är jag som känner mig säker i ett standard midgame macro game.
När man kommer till late game och zergen har stoppat attacker eller terran inte attackerat alls så tycker jag zerg har fördel för terran inte riktigt har mobiliteten att skydda alla sina expansioner från harass eller counterattacks. Plus så tycker jag broodlord/corruptor/infestor kompositionen är väldigt stark emot terran och terran har inte riktigt ett bra svar emot det när man får för stor arme av den kompositionen.

2.Jag har följt dina matcher och på senaste tiden har du i ZvP, med blandade resultat, kört den gamla Roach / Hydra / Corruptor-stilen, varvat med många olika all-ins. Har du några planer på att testa andra stilar som t.ex. Sheths hyperaggresiva spel, eller kanske ling / Baneling / Infestor? /kyrieee

Ja precis, jag brukade spela på det sättet av olika anledningar. den största va att jag helt enkelt trodde det va bästa sättet för andra zergs som spelat zvp mycket längre än mig fortfarande spelade så plus så kände jag att det va den mest stabila spelstilen.
De senaste veckorna har jag börjat spela med ling bane infestor mycket och overlord drops speciellt och det går väldigt bra. Har inte direkt kopierat någon så det har vart mycket arbete med timings hur jag ska stoppa olika allins och vad jag ska prioritera i mitt spel.
Protoss spelare hade stort problem emot detta i början efter jag började stoppa allins med nu så vinner dom i alla fall ibland macro games emot mig. Jag vill ge ett stort tack till bischu, sase och naniwa som vart mina main practice partners.

3.Tittade på en gammal med intervju med Jinro att du skulle vara någon av svenskarna som har en chans i GSL. har du läst intervjun ( den första 20 svettiga frågor med Jinro) och tror du att han har rätt? /neofajt

Nej jag har inte sett den eller läst den faktiskt. Jag tror jag skulle ha en ganska bra chans i GSL ifall jag fick bo där ett tag. Men som sagt måste man ha bra mental styrka och motivation att flytta hemifrån så länge tid och kämpa i den svåraste turneringen som finns. Personligen är jag väldigt imponerad av att Jinro fortfarande är där och gör så bra ifrån sig. Men jag är nästan mer imponerad av att när han inte gör lika bra ifrån sig så ger han inte upp och åker hem utan att han bara stannar där och fortsätter kämpa.

4.Naniwa sa att anledningen att han inte bor med er är för att TLO inte tycker om honom. Vad tycker du själv om Naniwa och skulle du vilja ha in honom i huset? /Klaent

Jag kan säga att det är inte den enda anledningen av att han inte vart inbjuden. Naniwa har vart lite sugen på att åka till Korea på sistone och han vann nästan Vägen till Korea-turneringen. Jag tror till mestadels att han inte vill flytta in för att han är inte helt säker på ifall han vill åka till Korea eller inte. Han bor i en egen lägenhet i Skåne så ifall han flytta in hit skulle han behöva ge upp den vilket vore en ganska stor investering i sig som kräver att han vet att han gör rätt beslut av att flytta in.
själv så tränar jag med Naniwa mycket online så det skulle nog hjälpa ifall han bodde i huset så långt vi går med vår zvp och pvz i alla fall men det tar mer än så ifall man ska bli övertygad att man vill att han ska bo i huset. Det handlar inte bara om att vara en trevlig person att leva med eller ha skicklighet i spelet och motivation, man ska helst ha ett ganska bra rykte men i alla fall inte ett dåligt (pratar om PR).
Naniwa har haft det lite tufft de fösta månaderna i sc2 när det gäller hans PR och jag tror det följer med han fortfarande faktiskt. Pratar inte dåligt om han på något sätt här, jag vet att det kan vara stressigt att ha så många turneringar som han ha och det är ibland svårt att hålla sig lugn i alla lägen. Till exempel från tsl3 finalen så skrev han "chill get out" för chill laggade vilket fick han att se lite oprofessionell ut men jag tror att alla spelare i den situationen skulle tänka likadant.

5.När kände du att du verkligen hade blivit ett SC2-proffs? /deefiX

Första steget var nog när jag slutade skolan vilket menade att jag satsade fullt ut på sc2. Andra steget var nog när jag flyttade in i detta proffshus vilket visade mig själv att jag tjänade tillräckligt med pengar för att flytta hemifrån (som när du blir fastanställd på ett jobb så kan du flytta hemifrån typ).

6.Vad för zerg-units skulle du vilja se att Blizzard introducerar i nästa expansion, som du känner att zerg behöver/som saknas nu.
Någon unit från BW? (Typ Lurker för att hålla ramper/chokes, eller Defiler för Darkswarm) eller nån helt ny som fyller en annan funktion. /Olof

Jag tycker zerg saknar units som håller en position. Protoss har sentry med forcefield och terran kan relativt säkert ta positioner och ramper med siege tanks och byggnader.
Både lurker och defilern med sin darkswarm höll positioner bäst som zerg och jag tror det vore något bra att ha i late game.
Du har spine crawlers som var som sunkens i sc1 där du skyddade expansioner och positioner bra i early game och early midgame men nu känner jag att när jag kommer till late game så bygger jag bara fler å fler spine crawlers med 1-2 infestors vilket är helt annorlunda från 2 lurkers på en ramp med dark swarm över.
Jag tycker zerg helt enkelt har för lite gubbar som gynnas av chokes och positioner och för mycket gubbar som bara a-movar in i en flank och gynnas av stora och öppna områden.

7. Du var väldigt aktivt inom BW-scenen innan du började köra SC2. Saknar du BW ibland och spelar du det fortfarande ibland? /Klon

Jag saknar det varje dag jag tänker på det. Jag spelar det inte längre men jag tittar ibland på BW vods. Men jag är glad av att sc2 börjar påminna mig om sc1 mer och mer.

8.Om du var tvingad att byta ras, vilken ras hade du valt och varför? /Lukas

Jag skulle bytt tillbaks till terran då protoss är inte en tillräckligt utmanade ras för mig mekaniskt sätt och teoretiskt sätt så är det relativt ytligt jämfört med zerg vilket leder till att jag tycker att jag inte kommer nå min fulla potential som spelare med protoss. Däremot så tycker jag zerg har lättare micro control än protoss vilket är lite synd. Det är riktigt imponerande ibland att se protoss spelare med perfekta forcefield utan att slösa bort energi och sprida ut sina gubbar korrekt emot mina banelings samtidigt som dom undviker att få sina colossus neutral parasitade samt drar focus på infestors med dom. Men jag som spelare tycker det är mer intressant att ha större potential i macro än micro.
Jag tycker också tvt är mycket roligare att spela än pvp för pvp är ganska simpelt när du går in i midgame och vidare och i early game så känns det lite mer coinflip baserat än tvt, dock så är alla mirror matchups i allmänhet mer coinflip i early game än andra matchups.

9.Vem är den bästa spelaren i världen just nu och varför är han det? /WWE

Jag skulle nog säga mvp eller nestea. Båda verkar vara relativt lika i hur dom spelar. Dom spelar väldigt logiskt och utgår från att deras motståndare spelar lika bra som dom på sättet dom anfaller och har sina builds. Dom kör sakta men säker och tänker väldigt mycket från en ekonomisk vinkel.
Men i slutändan tror jag mvp har mer potential som spelare för han är yngre och det känns som att han är lite snabbare på att spela.

MorroW efter sin IEM vinst mot IdrA.


10. Jag spelar själv terran, men funderar på att göra bytet till zerg. Med tanke på att du själv har gjort det, kan du förklara vad som låg till grund för ditt beslut och om det är svårt att lära sig en ny ras? /Penke

Jag tycker terran har fundamentala problem i early game på ett turbaserat sätt som patcher inte kommer fixa på en lång tid. ska inte gå in i detalj på det dock.
Zerg kräver mer macro mechanics.
Zerg har potential till att scouta allting som kommer på han utan att investera mycket i midgame och lategame.
När jag spelade terran så var det för svårt att få garanti på saker vilket är något jag behöver för jag är ganska paranoid i mitt spel och gillar att se allt som kan komma, endast det är random saker. Som terran behövde jag helt enkelt investera för mycket för att få garanti vilket ofta ledde till att jag antingen föll efter för mycket eller spelade coinflip själv.
Det jag saknar mest från terran är micro control vilket zerg inte har lika mycket potential i.

11. Efter Sveriges senaste succé i e-sport, tycker du att man kan säga att Sverige är bäst på esport? Jag menar vi är ju CS dominant sedan urminnes tider, och nu har spelare som du, Jinro, ThorZaIn, Naniwa med en rad fler spelare visat att Sverige kan vinna alla torneringar som körs i västvärlden. Så om man räknar bort Korea ( de är OP), tycker du att Sverige är bäst i världen på e-sport? /Johan

Ja vi är bäst utanför Korea just nu tycker jag, Ukraina är också bra.

12.Hur kom du till toppen av sc2? Var det genom ladder eller spel i ligor eller något annat? /EiSeL

Mycket pracc på ladder men framförallt i custom games emot andra progamers (nuförtiden spelar jag bara custom games som träning medan ladder är mer för att ha roligt eller warmup).
Men för att anses som att man är på toppen av andra behöver man vinna turneringar också. Vann väldigt många turneringar eller gick långt i de flesta jag spelade när jag var terran och nu börjar jag göra bra ifrån mig med zerg också.

13. Jag hörde IdrA säga att zerg inte kan utsätta sin motståndare för tidig press pga wall-ins, zerg unitsen har låg range. Håller du med han och isåfall vad kan göras för att förbättra det? /neofajt

Zerg är en väldigt defensiv ras och man behöver investera för mycket för att sätta press på sin motståndare. Så när man väl investerar så kan man lika gärna gå allin med det. Jag tror det är svårt att ändra till att göra så press blir mer vanligt i early game för zerg men samtidigt känner jag att det inte riktigt behövs så spelet är nu.
Tanken bakom press är att du investerar lite för att ge en misstolkning till din motståndare som potentiellt tvingar han till att investera i skydd. Till exempel att du gör 2rax emot zerg och bara bygger 1 marine och sen lägger CC och bygger en fake bunker vid hans natural så måste zerg spela som att det var en riktig 2rax vilket leder till att han ligger efter i early game om han spelar safe. Men samtidigt så kan zergen spela coinflip där och inte ta betet så ligger han före. Press i early game på det sättet blir därför oftast lite random om vem som kommer före.

Fast det finns en annat sätt av press som han kanske menade vilket är när du visar vad du har utan att investera som tvingar han till att svara annars dör han. Ett exempel av det är när du 1rax expandar emot zerg hatch first och skickar första 1-2 marinerna och anfaller lite drones i natural innan lings kommer ut och sen springer hem innan lingsen kommer ifatt. För du ville bygga dessa marines i första början för att skydda dig själv och jaga bort overlords eller drone scout så då kan du lika gärna lägga denna press på motståndaren i det lilla momentum du har att göra så.

14. Tror du att du kommer leva på esport många år till eller har du några planer på att börja jobba eller studera vidare? /Malte

Min plan är att spela sc2 i många år framåt och jag tror det är en ganska stabil plan också ifall jag ska vara helt ärlig.

15. Brukar du förbereda dig mycket inför dina NASL-matcher? Vad tycker du om NASL och kommer du vilja fortsätta spela i NASL nästa säsong? /Pophorn

Jag förbereder mig inte för nasl specifikt för det behövs inte och endast ifall jag gör det så hjälper det inte så mycket pga lag och maps. Jag är inte helt säker ifall jag vill spela nästa säsong av nasl, men det känns som ett bra val så här långt och jag tror ligan kommer förbättra sig till nästa säsong.

16. Vad är Mavens roll i proffshuset? Han verkar inte veta själv. /Klaent

Han har inte flyttat in än. Jag vet inte riktigt men vi har planer på att göra en youtube kanal och skaffa twitter etc vilket jag tror han kan jobba mest med. Förhoppningsvis så är det han som fixar saker som skiter sig :p Han sa att han ville va kock också men efter sett han ta margarin i pannan för att steka bacon så tvekar man lite lol.
Han jobbar också hårt för att fixa sponsorer som vi alla gjort men visar sig vara ganska svårt. Maven är också en kommentator och bor han i huset blir han nog drastiskt bättre på spelet också vilket kommer göra han till en bättre kommentator.

17. Om du skulle få välja vilken spelare som helst i världen som skulle flytta in i proffshuset, vem skulle det vara och varför? /Hadim

Skulle inte välja någon korean eller så för dom skulle nog inte vilja flytta in :p Sase och naniwa vore roligt men jag känner på mig att dom hellre vill bo i korea. Thorsain eller naugrim vore faktiskt roligt ifall dom flyttade in för uppenbara anledningar.

18. Det pratas mycket om att banorna i SC2 är en viktig del i balanseringen och att många är dåliga för zerg. Vilken är den bästa samt den sämsta kartan som brukas spelas i stora turneringar? /Klmmp

Metalpolis, shattred temple, typhon peaks i close pos. backwater gulch är en obekväm map också i early game. Bästa är nog metalpolis crosspos.
testbug verkar också vara en bra zerg map men den spelas inte så ofta.

19. Vad tyckte du om din tid i Korea? Kan esport bli lika stort i Sverige i framtiden? /Milk

Det va riktigt kul att åka till Korea och spela gsl-turneringen. var också spännande att se Seoul och kulturen. Var mindre roligt att jag åkte på stryk av toss.
Sverige verkar gilla esport mer och mer, speciellt börjar det komma in i media i alla fall vilket är najs. Men det blir svårt att gå om Korea.

20. Varför valde du nicket MorroW? /Johan

Jag hette noobwithnolife när jag va 15 (eller 14 minns inte) :D men sen när jag joinade min första klan [MB] så fick inte klantaggen plats i namnet så var tvungen att byta. valde bara något jag tyckte va bra då. nuförtiden har man bara kvar sitt nick för det är det som man är känd för. skulle nog inte vilja byta nick heller. jag tycker det inte är så viktigt

Några sista ord?
Tack till min klan mousesports och sponsorerna geil medion intel razer och sansibar.



---

1. In state of the game #37 a lively debate ensued between Idra and Day9 regarding zerg early game balance. How do you feel about zerg at present and what are some changes you'd like to see? /VenaGe

I think zerg is fairly balanced right now. It used to be somewhat obvious a few months back what was good but now it's gotten a little more difficult. I would say ZvP favors protoss to some extent but I've been applying a new style of ZvP that has been working out great up until now. I think part of the reason it's working so well is much due to the fact that protoss players haven't learned to deal with it properly in a theoretical sense or don't have the speed/multitasking necessary to cope with it in an efficient manner.

ZvT I feel a tad uncomfortable in the early game because in certain positions on certain maps it can be very difficult scouting exactly what the terran is up to. In those scenarios you're forced to resort to guessing which often leads to you falling behind in a potential macro game or simply outright dying to an early game cheese.

But for the most part I feel I'm capable of figuring out what the terran is doing and that allows me to respond correctly which puts me at an advantage in the macro game. Whether that advantage is due to imbalance or if it's just me being very comfortable in a standard mid game macro game is hard to tell.

When it comes to late game and zerg has managed to defend attacks or terran hasn't applied much pressure, I feel zerg has an advantage simply because terran don't have quite the mobility required to deal with harass and counters. I also think broodlord/corruptor/infestor compositions are extremely strong against terran and terran don't have a great answer when you aquire a sizeable army of that particular composition.

2. I've been following your games and lately in ZvP you have, with varying results, been playing the old roach/hydra/corruptor focused style, varied with various all ins from time to time. Have you had any plans on testing other styles such as Sheth's hyper aggressive play, or ling/baneling/infestor? /kyrieee

Yeah exactly, that's the way I used to play for various reasons, the major reason simply being that that's what I felt was the strongest way of playing in part due to other zergs with more experience relying on exactly that sort of play in ZvP. I also felt it was the most solid style of play. In the last couple of weeks I've started playing ling/bane/infestor a lot, especially focused towards overlord drops, and it has been going very well. I havent exactly copied anyone so it has meant a lot of work with timings and figuring out how to stop different all-ins, and what my priorities should be with this style of play.

Protoss players have had big problems in dealing with this after I figured out how to prevent common all-ins but at this point they can at least from time to time win macro games against me. I want to give a huge thanks to bischu, sase and naniwa as they have been my main practice partners throughout this process.

3. I was watching an old interview with Jinro where he mentioned that you would be one of the swedes that would stand a decent chance in the GSL. Have you read the interview, and would you agree on that? /neofajt

No I haven't seen or read it actually. I think I would have a decent chance in the GSL if I had the opportunity to stay there for a while. But as I've said before, you need to have good mental strength and motivation if you're going to move to a foreign country for that long of a period and start competing in the toughest tournament there is. Personally, I think it's very impressive of Jinro to still be there and doing so well. But I'm almost more impressed by the fact that when he isn't performing so well, he doesn't give up but instead remains in Korea and keeps fighting.

4.Naniwa said the reason he isn't residing with you is because TLO doesn't like him. What do you think about Naniwa and would you like to have him in the house? /Klaent

That wasn't the only reason he wasn't invited. Naniwa has been tempted to go to Korea lately and he almost won the road to korea tournament. I mostly think he didn't want to move in because he wasn't completely certain on whether he wanted to go to korea or not. He has his own apartment in Skåne so if he wanted to move here he'd have to give it up which would be quite a big investment in itself, and that sort of demands that he knows for certain if it's the right decision.

Personally, I practice online with naniwa a lot so it would be helpful if he resided in the house, but that alone isn't enough to decide whether he should live in the house or not. It's not only about being a nice person to live with or having a lot of skill, it's also a matter of having a good reputation or at the very least not a bad reputation.

Naniwa has had it a little tough during the first months of SC2 when it comes to PR and I think that still tends to follow him. I don't mean this in any offensive way, I know how stressful it can be having so many tournaments and it can sometimes be challenging remaining calm in all situations. For instance in the TSL3 final when he wrote "chill get out," as response to chill lagging, which made him look a tad unprofessional but I think every player would have had the same thoughts in that situation.

5.When did you feel you had really become a SC2 pro? /deefiX

The first step was probably me leaving school which meant that I had to fully commit myself to sc2. The next step was moving into the pro house which made me realise I was earning enough money that I didn't have to stay at home anymore (similar to getting an employment that allows you to move out of home.)

6. What zerg units would you like blizzard to introduce in the next expansion, that you feel zerg is missing at present time? Any broodwar units? (I.e. lurker in order to hold ramp/chokes, or defiler for the dark swarm) or something entirely new that fulfills some other purpose? /Olof

I think zerg is lacking units that are able to hold a position. Protoss has sentries with forcefields and terran can maintain positions or ramps relatively safely by having siege tanks and good simcity. Both the lurker and defiler with their dark swarm held positions well and I think that would be an improvement for the late game.

You have spine crawlers that are basically the same as sunkens in sc1, that allows you to protect expansions and crucial positions in the early and early mid game but right now I feel that in the late game I'm forced into just massing spine crawlers with a couple of infestors which is not quite the same as having two lurkers on a ramp, protected by dark swarm.

In essence, I think zerg has too few units that gain an advantage at ramps or certain positions and too many units that only a-move/flank and reap benefits in big and open areas.

7. You were very active within the BW-scene before you started playing SC2. Do you miss BW and do you still play it from time to time? /Klon

I miss it every day I think of it. I don't play it any longer but sometimes I watch some BW vods. But I'm happy SC2 is starting to look like BW more and more.

8. If you had to switch race, what race would you pick and for what reasons? /Lukas

I'd switch back to terran because I don't feel protoss is sufficiently challenging for me in a mechanical sense and I feel protoss is theoretically very superficial as compared to zerg which would lead to me not reaching my full potential as a protoss player.

On the other hand, I think zerg has easier micro control than protoss which is kind of a shame. It's very impressive at times seeing protoss players putting down perfect forcefields without wasting energy and spreading units correctly against banelings, while at the same time avoiding getting their colossus neural parasite'd and focusing down infestors with colossi fire.

But I as a player think having big potential in macro rather than micro is more interesting.

I also think TvT is a much more enjoyable match up than PvP because PvP is relatively simple in the mid game and feels like kind of a coin flip in the early game to a larger degree than in other match up's.

9.Who is the best player in the world right now and for what reason? /WWE

I'd have to say MVP or Nestea. They seem relatively similar in the way they play. They play very logical and based on the assumption that their opponents are playing as good as they are, which is noticeable in the way they attack and construct their bo's. They play slow but steady with a focus on economical play.

When it comes down to it I think MVP has more potential as a player simply due to the fact that he's younger, and faster as a player.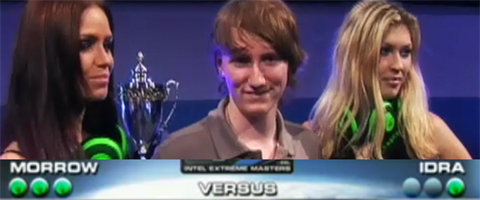 MorroW after his IEM victory against Idra.

10. I'm a terran player, but have been considering making the switch to Zerg. Considering you have done that exact switch, can you explain what was the reason for your decision and whether it's difficult to learn a new race? /Penke

I think terran has fundamental problems in the early game in a luck based way that patches won't be able to correct any time soon. I won't go into detail.

Zerg requires more macro mechanics.
Zerg has the potential to scout everything that's coming at him without investing much in the mid-, and late game.

When I was still a terran player it was hard to get any guarantees (tn: play safe?) which was problematic for me because I'm somewhat paranoid as a player and want to be able to account for anything that could happen. As a terran I had to invest too much to have guarantees which often lead to me falling behind or simply resorting to coin flip based strategies myself.

What I miss from terran is micro control which I don't think zerg has as much potential in.

11. After swedens recent success in e-sports, would you say sweden is the best e-sports nation? We are dominant in CS since forever, and players such as yourself, Jinro, Thorzain, Naniwa and many others have shown that sweden is capable of winning any (sc2) tournament ran in the foreigner scene. If you discount korean players (they are op) would you say sweden is the best e-sport nation in the world? /Johan

Yes I think we're the best outside of korea. Ukraine is also good.

12.How did you reach the top of sc2? Was it by practicing on the ladder or by playing leagues, or was it something else?/EiSeL

A lot of practice on the ladder but primarily in custom games against other progamers (these days I stick entirely to custom games for practice whereas ladder is something I consider "for fun" or just warming up.)

In order to be seen as a top player by other people you have to win tournaments as well. I won a lot of tournaments and got good placements as terran, and now I'm starting to post results as zerg as well.

13. I heard idra mention that zergs are unable to apply early pressure on their opponents as a result of wall-ins and zerg units having low range. Would you agree, and if so what could be done in order to improve on this? /neofajt

Zerg is a very defensive race and you have to invest a lot in order to be able to apply pressure on your opponent. So when you do invest in aggression you might as well go allin with it. I think it would be hard to make any changes that would allow zerg players to pressure more easily in the early game, and I don't feel it's quite necessary right now either.

Part of the thought process behind applying pressure is to invest some in order to make your opponent make misjudgments that could potentially force him into investing in defense. I.e. doing a 2 rax against zerg and only building one marine and then putting down CC and making a fake bunker at the zerg natural, which means zerg has to play as if it was a real 2 rax pressure and thus will fall behind in the early game if he plays it safe. But at the same time, zerg could coin flip and not catch the bait, and in that scenario the zerg will be at an advantage instead. For that reason, early game pressure can be kind of a coin flip with regard to who will end up ahead.

Then there's another way of putting on pressure that he may have been referring to which is simply showing what you have without investing, and this forces the opponent into responding. For instance, while 1 rax expanding against a zerg going hatch first and sending out the first 1-2 marines to attack some drones in the natural before lings are out, and then retreating. In this case you would have made those marines primarily for defense or chasing down overlords, and so you might as well use them to apply pressure.

14. Do you expect you'll be living off of esports for many years to come, or do you have plans on getting a job or further education? /Malte

My plan is to play sc2 for many years to come and to be honest I think it's a fairly solid plan.


15. Do you usually prepare a lot in advance for your NASL games? What's your opinion on NASL and will you be playing in the next season? /Pophorn

I don't prepare for NASL specifically because it isn't necessary, and it doesn't help significantly due to teams and maps. I'm not entirely certain on whether I'll be playing in the next season of NASL, but it feels like a good choice thus far and I think the league will keep improving for the next season.

16. What is Mavens roll in the pro house? He doesn't seem to know. /Klaent

He hasn't moved in with us yet. I'm not certain but we have plans on making a youtube channel and getting a twitter etc., which is something I think he'll be working on. Our hope is that he'll be taking care of things that go bad (tn: dunno lol) and he says he'll want to be our chef as well. But after having seen him using margarine to fry bacon I'm a little sceptical lol.

He's also working hard to find sponsors as have we all been, but that has turned out to be quite difficult. Maven is also a commentator and living in the house should drastically improve his abilities as a commentator.

17. If you got to pick any player in the world to move into the pro house, who would you pick and why? /Hadim

I wouldn't pick a korean as they probably wouldnt be interested. :p Sase or naniwa would be fun but I have a feeling they'd rather move to korea. Thorzain or naugrim would actually be fun if they moved in for obvious reasons.

18. There's been a lot of talk about maps in SC2 being an integral part of balancing and that a lot of them are bad for zerg. Which ones are the best/worst out of those that are often played in major tournaments? /Klmmp

Metalopolis, shattered temple, typhon peak in close positions. Backwater gulch is also an uncomfortable map in the early game. The best would probably be metalopolis in cross position. Testbug also looks to be a decent zerg map but it isn't played as often.

19. What are your impressions from your time in korea? Do you think esport has the potential to be as big in sweden in the future?

It was really fun going to korea and playing in GSL. It was also exciting seeing Seoul and the Korean culture. What was less fun was getting beaten up by protoss.

Sweden seems to be appreciating esport more and more, and sc2 has been getting more attention in the media which is always a good thing. It'll be hard surpassing korea though.

20. Why did you pick the nickname Morrow? /Johan

I used to call myself noobwithnolife when I was 15 (or 14, can't remember) :D But as I joined my first clan [MB] the name wouldn't fit so I had to change it up. I just picked something that I felt was good back then. Nowadays I just keep it because it's what people recognize. I probably wouldn't want to change it either. I don't find it that important.

Last words/shoutouts?

Thanks to my clan mousesports and the sponsors geil, medion, intel, razer and sansibar.

---
source